Halim Balta, 67, has been working at the tea house of the historical Rüstem Paşa Besteni, a covered bazaar, for many years. His biggest ambition is to establish a private museum and display the antiques that he has been collecting for the last 35 years. He turned his 20-square-meter tea house into a small antique shop that now draws visitors to the historical bazaar built by legendary Ottoman architect Mimar Sinan in 1553 on the order of Rüstem Pasha, the grand vizier and the son-in-law of Sultan Süleyman the Magnificent.
From antique stools to trays, handmade carpets and tablecloths, Balta's small tea house is a time machine taking its guests on a journey through time with displays of everyday trinkets from many years ago. Balta considers his small tea house to be an exhibition area where he can share his enthusiasm with others. Visitors and shopkeepers at the bazaar usually visit to Balta's place to talk about the past, their sadness, desires and memories while sipping of a tasty cup of tea. The tea house also attracts history and antique enthusiasts. Located in eastern Thrace in Tekirdağ, the historical Rüstem Paşa Besteni is a major tourist attraction as well as one of the major shopping centers in the city. Those who live in Tekirdağ and tour the city as tourists do not truly experience the historical bazaar without drinking a cup of tea at Balta's place. Elementary and middle school students are also brought to the Balta's teahouse to see his objects first hand. Although Balta is happy with the interest his business attracts, he dreams of establishing a museum. Speaking to Anadolu Agency (AA), he said his enthusiasm for antiques evolved when he began taking care of the objects left behind by his relatives.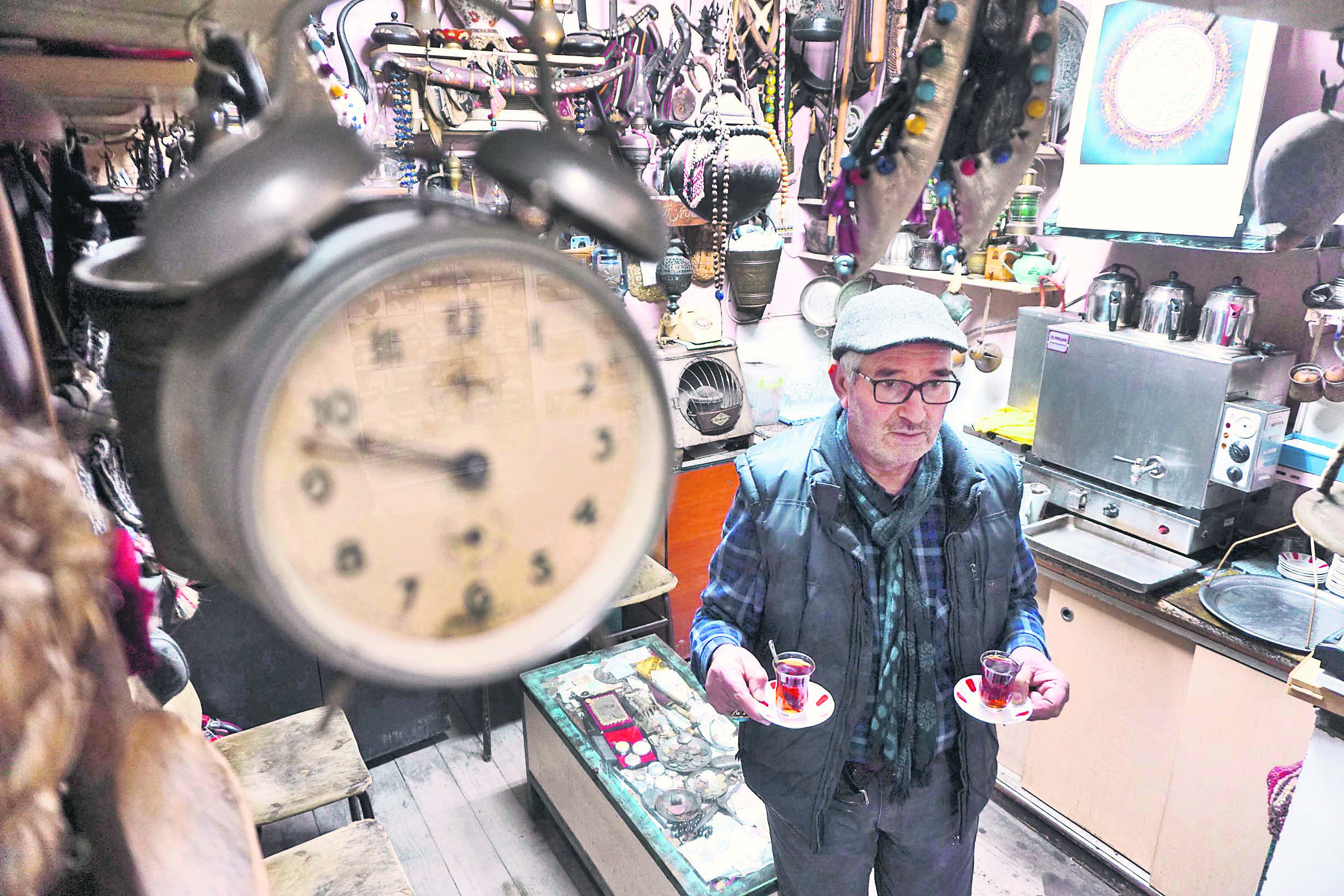 Balta said he has been collecting old sewing machines, antique kitchenware, irons, cameras, vases, boilers, weapons, record players, coins and banknotes. He explained: "I already had the things left behind by my grandmothers and grandfathers. As I tried to keep them clean and safe, I began to take interest in old objects and started to collect them as a hobby." Balta's tea house welcomes his friends, students and tourists and displays objects up to 150 years old. "People who know me bring old things that they would throw away in order for them to be passed down to future generations instead of the garbage can. As they continue to bring new things, my collection gets bigger and bigger without any extra effort," Balta said. He further explained his real intention for all his antiques: "I am happy surrounded by all these historical objects. They are very precious and dear to me because our ancestors used these things, cooked us dinner with these utensils and lived with these objects. I believe that we have to show some respect to honor their memories. I see all these objects as pieces of our culture and tradition rather than old objects. The
y are very different compared to a piece of plastic or aluminum that we use today. We should keep these things safe and embrace our past." Balta said that throwing away all these antique objects is no different than throwing away one's own culture. He said that young people should consider the importance of old objects, and added: "I want to build a museum to exhibit my entire collection. If I realize my dreams, future generations will be able to learn how people used to live." Associate Professor İsrafil Kocaman is one of the regulars at Balta's tea house. He told AA that he enjoys blowing off steam and drinking a cup of tea amid all the antiques. "We come here to chat with our friends and talk about the good old days. Everything that we recall from our childhood is here. These objects are now called antiques. This tea house is the best place to have a conversation with dear friends," Kocaman said.