The online reading platform biryudumkitap.com was founded by Alparslan Demir in order to encourage people to read more. The website publishes a new short story or a passage from a book once every five minutes, offering people a chance to read short excerpts while sipping their morning cup of Joe. Commenting on the success of the website, the FOLX Digital Advertisement Agency's president said they are very surprised to see that their initiative has reached so many people. "After witnessing the success of the website, I thought that we should have begun it earlier as people were hungry for literature," he added.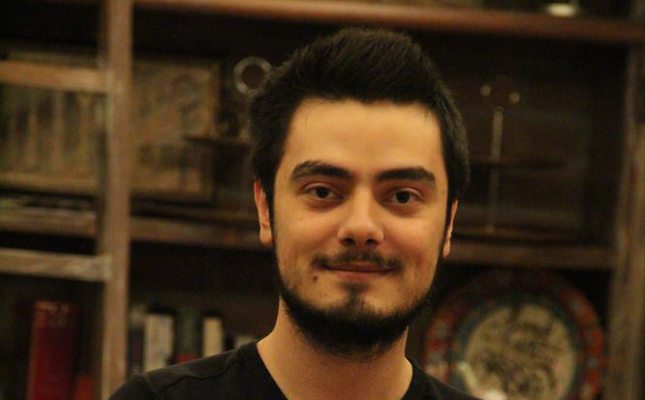 The FOLX Digital Advertisement Agency's president, Alparslan Demir, is the man behind the idea and strategy of biryuduminsan.com.

Demir told an Anadolu Agency (AA) correspondent that the idea and strategy behind biryudumkitap.com belongs to him; however, there is also a huge team behind this website's construction. Bilal Tayfur undertakes all things related to literature while Buse Arslan operates as content editor. Taner Oğuz undertakes corporate communication, Faruk Aladağ offers technological assistance and Sadullah Bağ handles the social media accounts of the website.
The name for the site, "Biryudumkitap" ("A Sip of a Book") was conceived when a friend of Demir paraphrased the project's theme as "a piece of literature accompanied by a sip of coffee." After choosing the name, the project came to life in November 2015 and, with Demir's inspiration for the website, it took the team just 36 hours to realize it.
After the promotion on social media, the website turned into a phenomenon. "Once we announced biryudumkitap.com on social media, nearly a thousand people subscribed to the website on the first day, even before we began offering services," Demir said. When designer Emre Siphahi finished the design of the website, thousands of people subscribed to biryudumkitap.com. "Our story is as simple as that. We started this website because I am in love with technology while Bilal Tayfur is in love with literature. While they create the website, Demir and his team had no commercial concern as they are a team formed of people who are regular readers and do their job with love. Demir explains that the website aims to offer short pieces of literature to people who do not have time to read or are overwhelmed by the wide reading selection available via Kindle devices and the Internet. "We try to offer a good selection of short stories and passages from books or literary magazines. We share poetry on Saturdays and passages from literature magazines on Sundays. Our aim is to take away all the excuses that people make up for not being able to read novels or books," said Demir. The team behind the website embraces Goethe's inspirational quote as its motto: "A man should hear a little music, read a little poetry, and see a fine picture every day of his life, so that worldly cares may not obliterate the sense of the beautiful which God has implanted in the human soul."
Demir emphasizes a quote from Shakespeare by saying, "The world sings for those who listen and we are still receiving positive feedbacks which makes us very happy." While some of the subscribers say the website is one of the best things that has happened to them, some believe that the site only encourages people to purchase more books. Despite the mixed reviews, Demir is grateful for every bit of feedback he receives because he believes customer reviews will help them to improve.
The founder of biryudumkitap.com underlines that they mostly try to share passages and stories from Turkish literature but that passages from world literature are also included on the website. Apart from novels, poems and short stories, the website also shares the texts of stage plays. "We believe that drama should also be read. Bilal Tayfur is usually decides what to post online although we sometimes consider suggestions; however, the final decision belongs to Tayfur," Demir added.
Biryudumkitap.com aims to introduce newly published books on Fridays. By promoting the latest literature, the website keeps its subscribers updated all the time. Demir said: "The suggestions that come from our readers are very valuable to us. As our readers visit our website, we read their reviews."
Demir underscored that they intend to offer pure literature to their subscribers and reach out to more people. He believes that reading passages on biryudumkitap.com will also encourage people to purchase the book itself, allowing writers, editors, publishing houses and translators to earn money and ultimately keep the industry going.
Demir said their subscribers always encourage them to create innovative content and that his team is always open to new things. Biryuduminsan.com will also offer its services as a mobile application, aiming to reach to more people through digital platforms. "We design a mobile application to offer our subscribers a better literary experience. The app will soon be available to Android users via Google Play and the Apple Store," Demir said, adding they will also initiate new projects for schools which do not have libraries.