When I got lost during my visit to the Vienna Natural History Museum many years ago, I witnessed how hard it was to arouse curiosity in children, while we tried to find our way again. It is very hard to keep them focused for any extended period of time. Yet when children decide what they want to do for the rest of their lives, they are affected by the things they see on the streets, in cinemas and in museums. It is not easy to build facilities that arouse interest among people, especially considering the technology of our time. To encourage children to get away from their smartphones and tablet computers, adults need to be more creative, willing and careful. In modern times, there are not many events left that create bonds between parents and their children; however, technology is also something that can act like a bridge between generations, and Istanbul Modern has launched a new wireless application called "Beacon" that is very easy to use.
Download the app and activate Bluetooth
Museum guests can download an Istanbul Modern app after connecting to Wi-Fi with smart devices that support iOS or Android operating systems. As a guest, activate your Bluetooth, turn on the application and take a tour of the museum. During your tour, you will see a green formless stone next to the tags of some of the works of art. When you scan the tags via the application, you will see detailed information about the work on your smart phone or tablet computer. The application also offers family and individual modes. If you enter the individual mode, you will also receive videos and photos apart from the text. The technical team provides information about the app, which is only offered to museum guests.
'Like' map at the museum
Istanbul Modern does not just provide information about the works of art, but also gathers information to offer better service to its guests. For instance, the app's analysis of a work of art by Bedri Rahmi Eyüboğlu that I am standing in front of sends an invitation to the next exhibition that will feature the artist's works. In other words, it is possible to determine the artistic taste of the guests. The app enables the museum to determine which works of art are most attractive for you. So technology builds a bridge to get to know art buffs.
FORMLESS STONE TALKS TO MY PHONE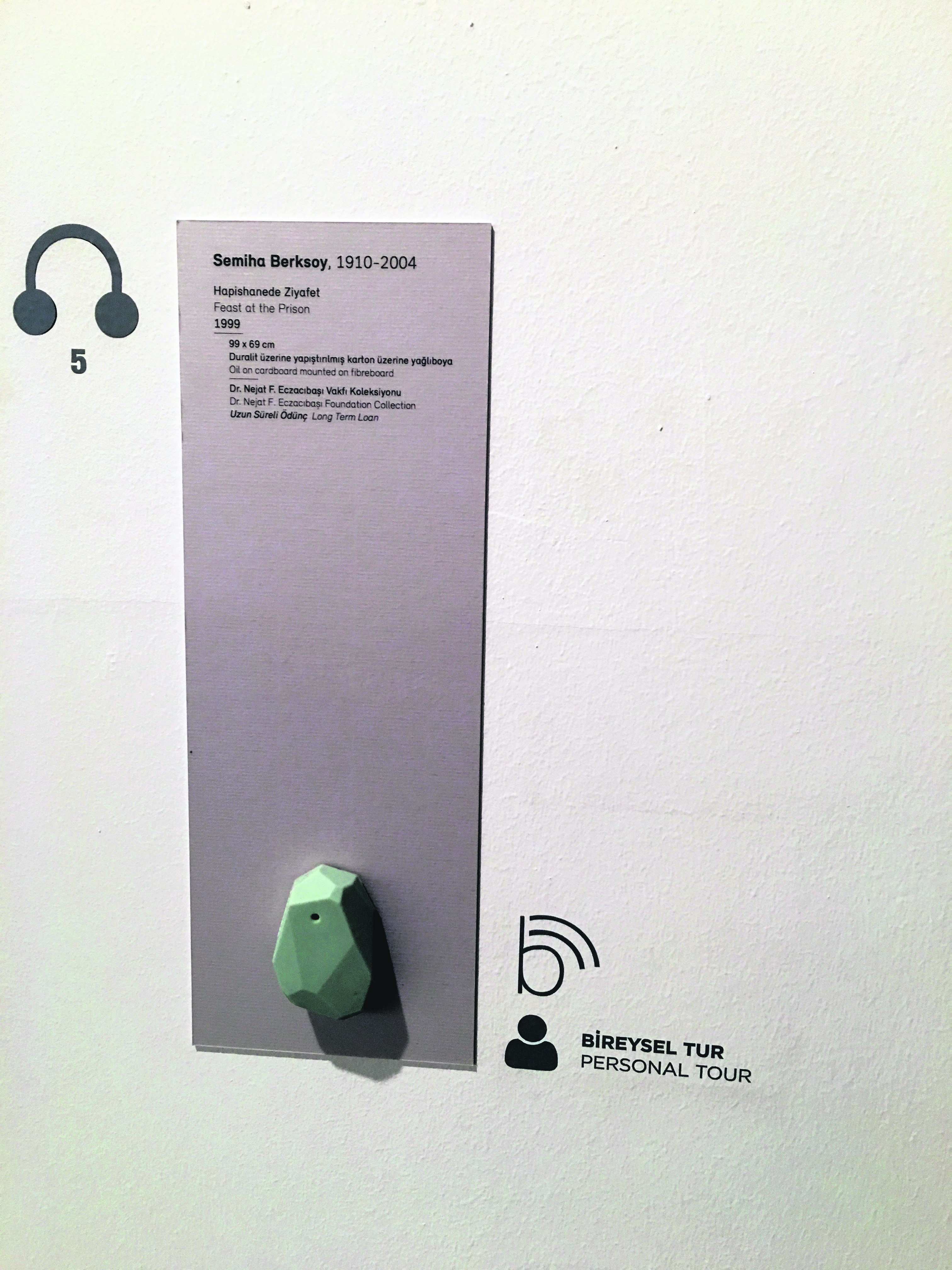 A new app called Beacon offers a wireless connection with a minimum energy principle and enables its users to acquire information about products and services via Bluetooth. The technology is used in many places, from bus stops to stores, and is currently used by Istanbul Modern to provide detailed information about artworks in text or visual form. Although Beacon seems like its informing you via the app, the app actually directs the user to a website; hence, the smart device - smart phone or computer tablet - that you use should be connected to a mobile internet service or Wi-Fi. Works of art that feature a Beacon mark on their tag direct smartphones to informative websites.
Educational games for children
The interactive details about the artworks are provided in two sections: individual and family. By choosing "family," parents are able to present their children educational information about the artworks they see. Children become more interested as they learn details about an artist's life and works. The app also offers educational games for children and parents regarding some artwork.
HACKERS DEMAND RANSOM, EARN $34 MILLION A YEAR
Institutions and companies are getting closer to their customers through technology; but they are becoming vulnerable to security risks. Each year brings new security risks. According to Cisco's 2016 Annual Security Report that studies cyber threats and security, only 45 percent of institutions in the world are confident about their cyber security, as hackers are using bolder and more stubborn methods. Hackers that use software to demand ransom from companies and institutions earn $34 million a year.
Although company managers are not sure about their cyber security, 92 percent believe that investors and board members expect them to have effective control over cyber risks. Therefore, managers take new precautions to secure the future of their institutions and companies, especially operations that use a digitalizing process.
The Cisco report also reveals the challenges companies and institutions are facing. Hackers are making use of legitimate sources for profitable and effective cyber-attacks. They demand ransom after threats to digitally destroy companies and earn great sums of money. Sinister people are able to continue organizing cyber-attacks without being stopped by any regulations or laws. Moreover, companies cannot detect and fight against these attacks let alone recover from them. Outdated digital infrastructures, organization structures and practices put companies and institutions in danger. Cisco's research underlines that companies need to invest more on their digitalizing processes, technologies and employees and cooperate with other companies to protect themselves from this illegal industry.
Study results:

Less trust, more transparency:
Less than half of the companies interviewed by Cisco are confident about determining the extent of their security flaws and compensate for their loss. However, most investors expect their companies to be more transparent about future cyber security risks they face. This shows that cyber security has become a concern to top level executives.
Outdated infrastructures:
The number of companies and institutions whose security infrastructures is up-to-date declined 10 percent between 2014 and 2015. Cisco's research shows that 92 percent of devices with an Internet connection have detected security gaps. Of all the devices that were analyzed, 31 percent are no longer being supported or maintained by the seller.