Shopping is one of the biggest frustrations in everyday life that many people endure on a daily basis. Known as "shopper's syndrome," battling crowds in a busy shopping mall or walking down busy streets to find that perfect and affordable outfit is a difficult but necessary task. It is true that the shop-til-you-drop mentality illustrates the effects of consumerism on its helpless victims, but there is still hope for frugal but dedicated shoppers looking for a great deal without having to experience the chaos of the shopping malls across Istanbul.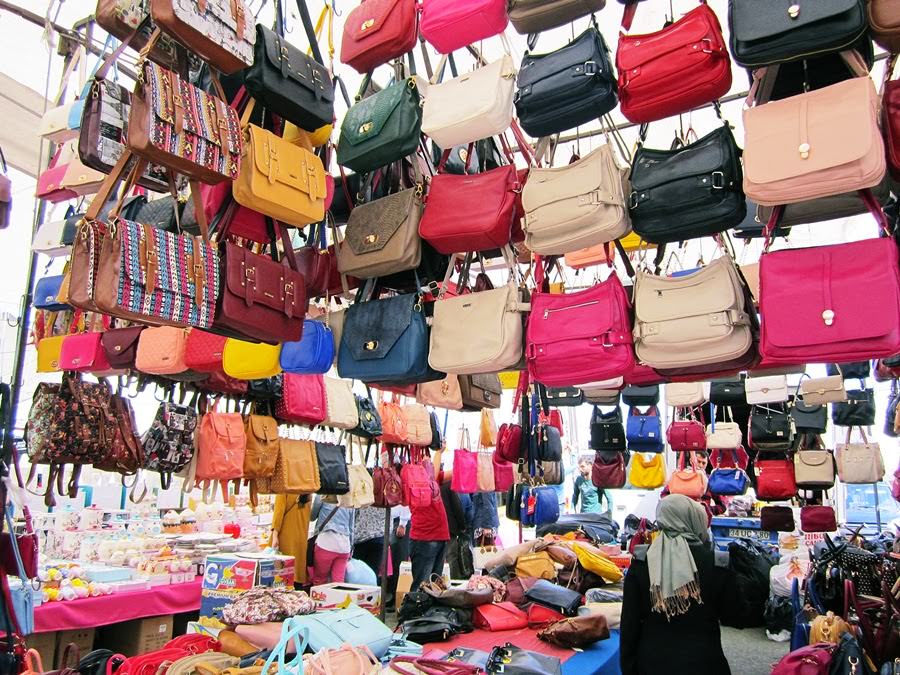 As you pass through the narrow gates and open doors of small shops around the city, you can find cheap clothing as well as unique trinkets such as second-hand books, CDs and other accessories in shops with neighboring teahouses and cafes. Let's first take a look at the European side of Istanbul.
Beşiktaş
Lying in the heart of the Beşiktaş district, the Beşiktaş Market has a number of arcades - the most famous of which is the Sinanpaşa Arcade - surrounded by stores that sell evening gowns as well as second-rate clothing in like-new condition from expensive brands like Topshop and Asos. It is possible to find a chic dress in this district for as little as TL 50 ($17). The Sinanpaşa Arcade is not just a go-to place for affordable clothing in Beşiktaş, as you go down the street shops offering everything from housewares to fine perfumes also beckon. The market area is always bustling seven days a week and is a preferred spot for students from universities in the area. I recommend heading to Beşiktaş a little early to beat the crowds and find what you need.
Beyoğlu
Our next stop is the Beyoğlu district where you can find numerous small arcades, the most famous of which are the Atlas Arcade, Halep Arcade, Terkos Çıkmazı and Anzavur Arcade. Terkoz Çıkmazı, the district's permanent outdoor clothing market, is one of the most highly recommended places for bargain hunters looking for reasonable prices. You can find clothing from renowned brands including Zara, H&M and Mango while digging through clothes piled on tables. Beyoğlu İş Merkezi, located on İstiklal Avenue, is also worth visiting for its small stores that sell good quality clothing at prices ranging from TL 25 to TL 30. I recommend visiting Aznavur Arcade to find special souvenirs from Istanbul. Set midway down the street, this arcade sells everything from clothing to jewelry and unique gifts.
Bakırköy
Hugging the Marmara coast, the Bakırköy district hosts a weekly Saturday bazaar that offers more than just shopping. It has everything you could need from food to designer clothing and imported handicrafts to housewares. As soon as you enter the bazaar, the first thing that is sure to grab your attention is not the products, but the yelling salesmen who will do everything they can to attract more customers. Male shop owners wear women's clothing, even mimicking female gestures to attract customers. You will hear them yelling out: "Three pairs of socks for TL 10." The quality of the products sold here is decent and they sell clothing by famous brands, selling out early in the day. I recommend getting an early start before the best deals are snatched up by early bird shoppers. Before leaving the Bakırköy bazaar, sit and eat a gözleme with a cup of tea at the nearby kiosks.
Kadıköy
The Opera Onur Passage, situated on Bahariye Avenue in the Kadıköy district on the Asian side, is one of the districts with the largest population of expatriates. Albeit an old area, the Opera Onur Passage was once the most frequently visited places in the neighborhood. Today, the passage seems a bit deserted, but its regular customers still peruse these local businesses for affordable shopping. For students, the Akmar Passage on Mühürdar Avenue, which has been around for more than 50 years, is a haven where they can find any textbook they need as well as discount English novels and reference books. Do not take a ferry back to the European side if you visit Kadıköy because the Anatolian side's biggest bazaar Salı Pazarı also has great deals if you do not mind digging through mountains of clothing. This bazaar may not offer the highest quality clothing, but is a great option for those cheap and cheerful purchases. The market is famous for attracting vast numbers of female customers as well as female stallholders and is open on Tuesdays and Fridays. The street running past the Kadıköy deck offers a wide variety of jeans, too. Some of them are counterfeit jeans, but perfectly wearable nonetheless.