Mid-afternoon on a Wednesday and the Tiananmen Square Museum in Hong Kong is busy. Since announcing its imminent closure in April, the museum has seen an uptick of visitors. Around 25 people fill the 74-square-meter space, mostly schoolchildren and a few solo travelers from mainland China, where it is officially forbidden to discuss the events that took place in and around Tiananmen Square in Beijing on June 4, 1989. "What we've been told [about the Tiananmen Square Massacre] is really quite different," said Wang, a 40-year-old office worker from Guangzhou who asked to be identified by a pseudonym. Disappearances or visits from Chinese government authorities are not rare on the mainland, which is why many Chinese visitors to the museum are alone.
For seven weeks in 1989, students gathered at the famous square, demanding government accountability, freedom of press, freedom of speech and democracy in a country that had experienced a spate of corruption and nepotism by elites in the ruling Communist Party. The students were also mourning the death of Communist Party General Secretary Hu Yaobang, a liberal in the midst of conservative hardliners in the party. When the students refused to leave the square and tensions escalated, the government sent in tanks, leading to the deaths of several hundred people. China's Communist Party leaders still refuse to discuss the details of the crackdown or even mention the incident.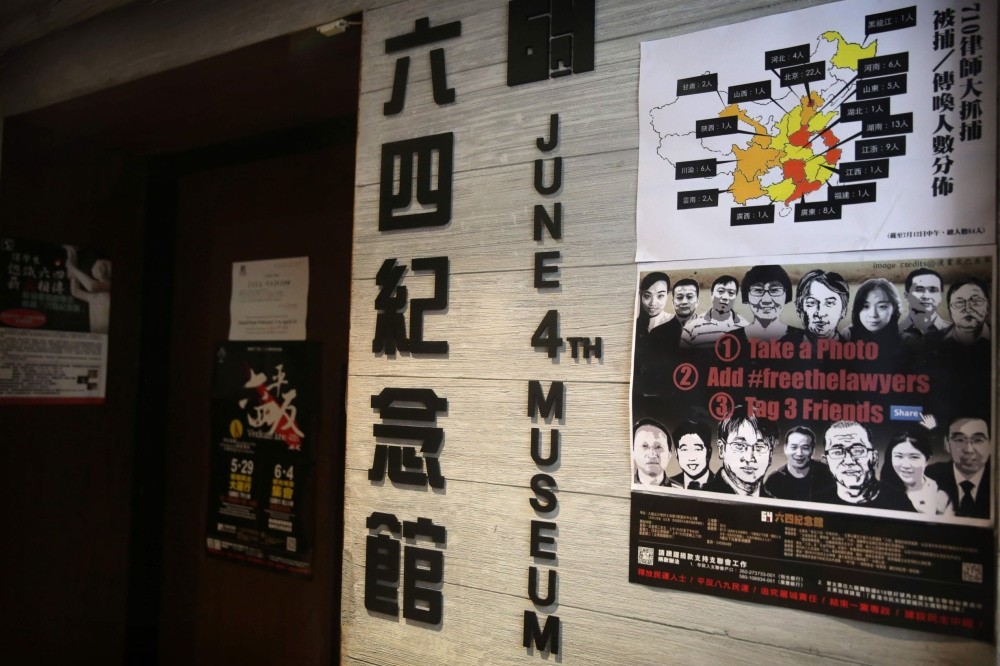 The world's first museum dedicated to China's Tiananmen Square massacre is shutting down its doors, with organisers saying they believe they are hounded for political reasons.
Britain ceded Hong Kong to China in 1997, and since then mainland Chinese residents like Wang - dissatisfied with a censored media at home - have turned to Hong Kong for information. The museum was once a temporary fixture of the yearly memorials to the dead. It became a permanent space in 2014 and has seen some 20,000 people come through its doors - half of all of them visiting from the mainland. But Hong Kong's protected status appears to be changing. Book publishers in Hong Kong have gone missing - only to turn up helping with police investigations on the mainland - for reporting on senior Communist Party officials, and politically sensitive book titles have been removed from shelves as China tightens its control over what can published in Hong Kong.
The museum is being forced out of its current location following a lawsuit initiated by the building owner's corporation. The corporation, headed by a man who runs a factory in China, accuses the museum of violating the building's commercial code by operating the space as a museum and not an office. Albert Ho, a local legislator and convener of the Hong Kong Alliance in Support of Patriotic Democratic Movements of China, which runs the museum, believes the lawsuit is politically motivated. "Before we opened, we let them know it was going to be a museum. We publicly let everyone know," he said.
Hong Kong has its own history with Tiananmen Square. In 1989, the island provided a base of support for students and workers who camped out in Tiananmen Square. An estimated 1.5 million people took to the city's streets on May 21, 1989, in solidarity. When the Chinese government began arresting protest leaders, Hong Kong businesspeople and celebrities, with the help of the government and others, launched operations to help free them. More than 400 dissidents, including student leaders Chai Ling and Wuer Kaixi, escaped through Hong Kong to the United States, Britain, France and other Western countries. The alliance and their supporters do not want this part of the Tiananmen Square crackdown to be forgotten. "It's my duty and my mission to let the young generation know about this incident," said Connie Chan, a Chinese history teacher at a local secondary school who was visiting the museum with her students. "I was in Hong Kong in 1989 and participated in the march. I was 20-something then, already a secondary school teacher. I went to march with the students [from our school]."
The spirit of the protests re-surfaced in Hong Kong in 2014 with student-led demonstrations calling for more choice in who should run the city. Wang, the mainland Chinese visitor, came seeking a different point of view and said he would like to see full democracy in Hong Kong. But he was less emphatic about China's democratic prospects. "We are such a big country, with so many different cultures and wants," he said. "This is what I think ... for now."