Aside from the health benefits, engaging in regular fitness activities can change your life if you embrace this lifestyle with the right attitude, giving you freedom as well as cardio strength. Every year Nike empowers the global fitness community through a series of running and training events for men and women. This month, Nike + Run Club's "Unlimited Istanbul Series," which continues until Aug. 20, is a three-week fitness event held across the city of Istanbul; including the districts of Maslak, Moda, Cihangir and Bakırköy. The Unlimited Istanbul Series has twelve sessions each centered around a different theme. Led by Nike + Run Club trainers who specialize in running, jogging and yoga, the fitness series began on Aug. 6, when dozens of professional and amateur runners gathered at Maçka Park in Bebek and will continue the series this week. All events are free and open to the public.TodayThe Unlimited Istanbul series continues today at Cihangir Yoga in the trendy district of İstinye, where a meditation session will be offered for participants to refresh their souls and minds. Guided by instructors from Cihangir Yoga, the session will cover contemporary yoga methods in a workshop held from 6:45 p.m. to 8:00 p.m. With three locations in some of Istanbul's most well-known neighborhoods - Cihangir, Istinye and Caddebostan - Cihangir Yoga has a variety of classes which include fundamentals of yoga, yoga therapy, yin yoga, shadow yoga, Ashtanga yoga, Mysore style, Mat Pilates, prenatal yoga and yoga for kids.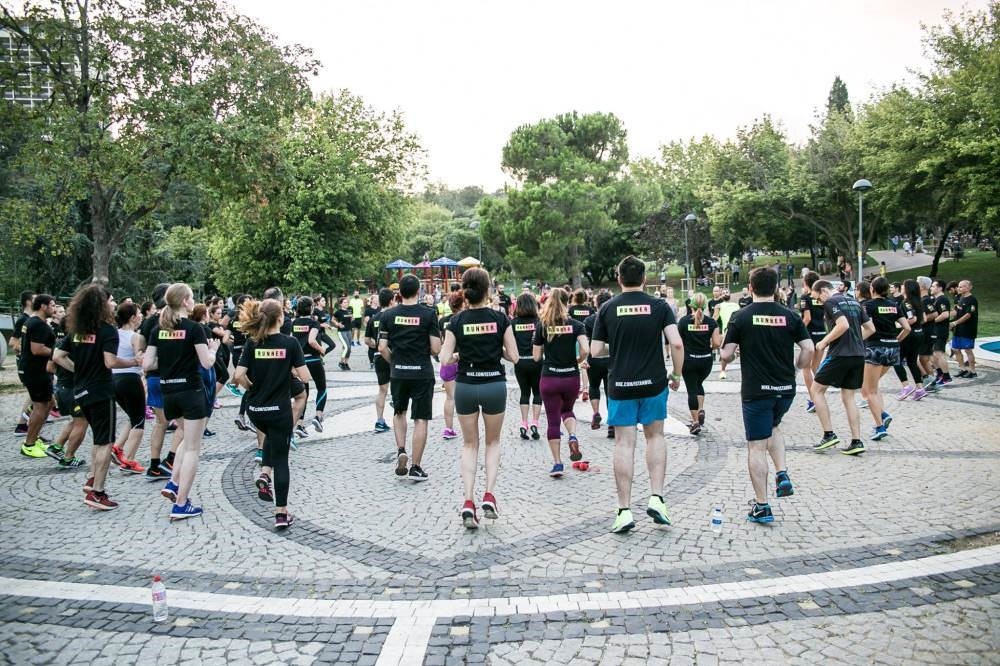 Maçka Park, Istanbul
TomorrowNike Club events are being held on the city's Asian side as well. With Nike + Run Club trainers, a running event will take place tomorrow in the open-air area of the Ataşehir Palladium Mall. For two hours, the group will enjoy a warm evening running on a 3K racetrack for two hours. The event kicks off at 7:30 p.m.August 17Istanbul Technical University's Maslak Campus, located right in the heart of Istanbul, is another leg of the Unlimited Istanbul Series. On Wednesday, the Nike + Run Club will be there at 7:30 p.m. for a graded cardio workout which helps participants keep fit. The program will cover tempo running and hill workout. As a faster-paced workout also known as a lactate-threshold, the tempo pace is often described as "comfortably difficult." Tempo running improves metabolic fitness, a physiological variable crucial for success in running.
August 20The Unlimited Istanbul series will end on Saturday in the city's Bakırköy district. A tw0-hour, coastal run for amateur and professional runners will take place well-paced intervals under the guidance of trainers Beste Önal, Can Üstündağ and Mehmet Ali Yıldırım. Önal,a national swimmer and sports trainer is also one of the founding members of Turkey's female-only life and running platform called, "Bu Kızlar Nereye Koşuyor" (Where are these girls running?) Önal works as a running trainer at Nike + Run Club and will lead the group throughout the event. The event will start at 8:30 p.m. For more details, visit the Nike Istanbul website.
Running tips for newbies
- Start each run with a warm-up of about five minutes. This can be quick walking, knee lifts and climbing stairs.
- Regular running for beginners means getting out at least twice a week. Your running skills will improve as your body adapts to the consistent training stimulus.
- Running twice a week or every week, is better than to run half a dozen times one week.
- Join a running club. A running club is the perfect way to commit to running regularly. Most clubs have running groups for different levels, including beginners. In Istanbul, aside from the Nike Run Club, there are also a number of running clubs newbies, "Team Istanbul Running Academy," "Istanbul Koşu Kuvvetleri" (Istanbul Running Forces), "Adım Adım Koşu" (Running Step-by-Step) and the exclusively female group "Bu Kızlar Nereye Koşuyor."
- Record all your running activities to see your achievements.
- Remember, regular running can reduce the risk of chronic illnesses, like heart disease, Type-2 diabetes and stroke. It can also boost mood and help keep weight under control.