For almost half a century, Zeki Kutluca, 58, has been making combs from animal bones and horns, a profession he inherited from his father and grandfather.
Kutluca, originally from Turkey's Sivas, practices his profession in Antalya's Döşemealtı. But now, the master craftsman's work faces the risk of getting lost into obscurity as he cannot find any apprentice willing to take up his job of making combs from the buffalo, bull and ram horns.
Speaking to the Anadolu Agency (AA), Kutluca shared the details and secrets of his centuries-old profession. He said bone combs, which were once sought after by each and every new bride, used to be made by a couple of masters abroad, and Kutluca himself in Turkey.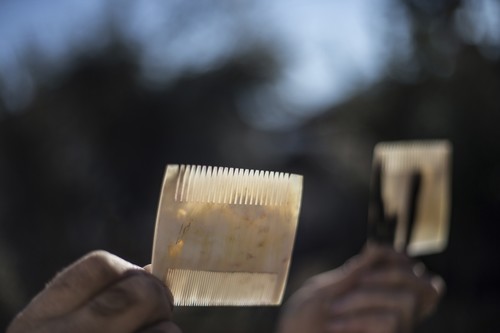 "We used to make bone combs from buffalo horns. Comb's made from buffalo horns were the best. But, now buffalo horns are hard to come by."
Kutluca cuts the edges of the horns, then leaves them to be dried for two whole years. Once dried, he cuts them into two pieces and rubs them with emery before turning them into combs.
Claiming that the use of bone combs has declined due to the availability and common use of plastic combs, Kutluca said, "It is much better and healthy to use bone combs. They can prevent hair dandruff and frizz while keeping it very soft."
The craftsman said that the Sivas Governorate had launched a bone comb making course as a part of a program aiming to keep traditional handcrafts alive. "So far, I have trained a total of 21 apprentices, but none of them practice the profession. I have a son but was unable to make him love this profession. There was no one in Sivas who made bone combs when I was there. Then, I moved to Antalya, but nothing has changed. I sell all my works to a few places in Sivas."
Kutluca said he knew a few bone comb makers in Bursa and Ordu, who all shared his fear that the profession will soon disappear.
"Making bone combs is a very challenging profession. A man can only make 10 combs a day, which are sold between TL 5 [$1.3] and TL 40 according to their quality," concluded Kutluca.