Artists usually like to attend the opening of their exhibitions but the painter of the works that went on display at a gallery in Helsinki on Tuesday preferred to carry on hibernating.

The artist behind the exhibition entitled "Strong and soft touches" is a 423-kilogram (930 pound) brown bear named Juuso who uses his body, especially his paws, as paintbrushes.

"We just leave paint for him, some plywood and paper ... If we ask him to do it, he doesn't do anything. He does all the work in his own time, when he's alone, sitting and moving his legs on the paper," said Pasi Jantti, one of his keepers.

Juuso, who is 17 years old, favours blue and red, the keeper said, adding that the paints used posed no health risk to the bear.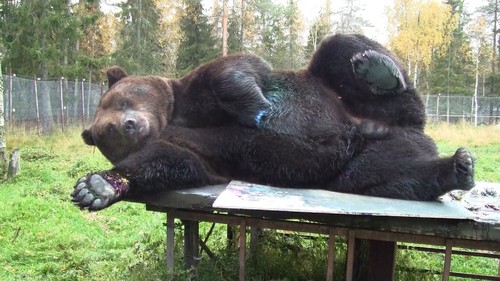 Juuso the bear drawing one of his artistic pieces (Imgur Photo)

His keepers discovered Juuso's artistic bent one day while painting some facilities at Kuusamo animal centre in northern Finland where he has been living since being orphaned as a cub.

"Juuso got some paint in his paws and started to make marks with them. We noticed that he liked it," Jantti said.

The centre raised about 8,000 euros ($8,500) by selling 15 paintings produced by Juuso. The exhibition now opening at the Rupla gallery in Helsinki features 11 pieces of original work and some prints are priced from 50 to 4,000 euros.

Some of the paintings still feature bits of Juuso's fur. Funds raised from the exhibition will be used to make a documentary about bears. ($1 = 0.9354 euros)