Bosnian TV channels have turned their attention to Indian TV series, reviving the tradition of "henna nights," which was introduced to the region by the Ottomans centuries ago.
The henna parties in Bosnia and Herzegovina are quite similar with the henna traditions in Turkey. In Bosnia, the bride-to-be is decorated with henna by her closest friends who adorn her with elaborate patterns. This black and orange henna is similar to the one used in "henna nights" in Turkey, along with the traditions of "holding a mirror," "wearing a veil" and "making the bride cry."
Adla Mulic, Bosnia and Herzegovina's most popular henna artist, told an Anadolu Agency (AA) correspondent that she remembers the henna night tradition from her grandmother, adding she tries to keep this tradition alive by modernizing this centuries-old tradition.
Currently studying at the Faculty of Islamic Science at the University of Sarajevo, Mulic said she has been using henna for the past couple of years and that practicing her art also provides additional income for her.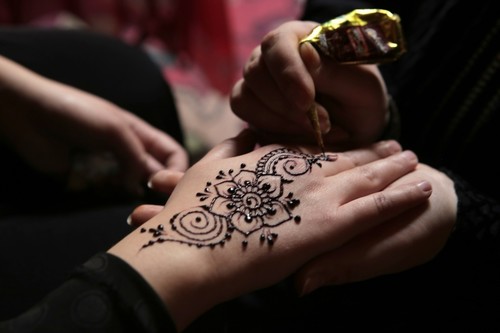 "I began drawing motifs on people with henna three years ago while I was still a student in madrasah. I had always wondered why the hands of my grandmother were orange. While her palms and fingertips were always orange, she also put henna on her feet in summer. I found this tradition quite interesting. Back in the day, grandmothers used to put henna on their grandchildren's hands on special days, such as birthdays and eids. I did research on the 'henna night tradition' and my journey officially began after I received a present from Mecca, a box of henna."
Mulic learned to draw motifs on people's hands and arms via the videos she watched online. In time, she created her own motifs, adding flowers and tiny details.
Noting that she has been influenced by various Indian TV series recently, Mulic said: "In fact, I wanted to revive the Turkish tradition, which was once a very common practice here. Hence, I took advantage of the elements on the Indian TV series to make this tradition more appealing and popular."
Mulic claims that the popular Turkish and Indian TV series being broadcasted in Bosnia and Herzegovina have led the way to the revival of long-forgotten traditions and also draw attention to the increasing number of henna nights organized there.
Mulic said the henna nights are more intimate than the "girls' night out" traditionally organized in Europe, adding she regularly attends different henna night parties to draw motifs on the guests' hands.