At urban centers, participating in sports on a regular basis requires determination. For families with children, finding a decent place to encourage your little ones to participate in sports can be difficult. Among all the different choices, picking the right sports activity for them where they can also be entertained is crucial. Here are our top picks around the city:
Boulderistanbul
Boulderistanbul in Istanbul's Kadıköy district offers fun and training to children willing to give rock climbing a try. Artificial walls are formed with nine different angles and are suitable for all levels and rock climbing training is given by expert trainers, as well as introduction and training programs for sports climbing for children, providing an excellent opportunity for beginners to start climbing.
There is no need to have preliminary training to try bouldering. Trainers give a brief introduction and participants then test their skills. It may still be a good idea to take a sports climbing introduction program, which lasts about two hours. The basic information you will need to get started will be reinforced with practical applications under this program. Boulderistanbul is open between 12 p.m. and 10 p.m. on weekdays and 12 p.m. and 8 p.m. on weekends.
In bouldering, the climbing wall is an artificial wall formed on various slopes and angles. Handles placed irregularly on the walls replicate a natural rock formation in an indoor area. The differences in form and dimensions of the placed handles, such as the angles and slopes of the artificial walls, and the ready climbing routes at various difficulty levels, provide a pleasant sport activity and training opportunity for climbers of all levels.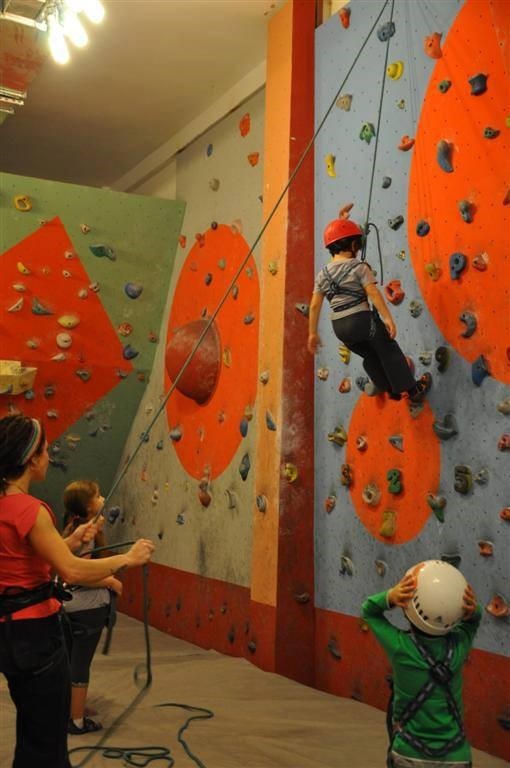 Acrorun
Acro Academy in Istanbul provides parkour training for both children between the ages of seven and 14 and adults. Parkour lessons including conditional and technical training provide a fast and effective way for a person to reach from point A to point B. Parkour does not involve acrobatic elements, just functional (jumping obstacles, climbing and high jumping) techniques in training.
Children's yoga
Would you like to do yoga with your children? Children's yoga classes at Cihangir Yoga are suitable for children between the ages of three and seven. The children's yoga classes aim to teach children to breathe properly, practice their yoga postures and maintain their existing body elasticity by using their imagination. This type of yoga will lead the children properly into poses and asana, reinforce their self-confidence and teach them how to relax using their bodies while also using their imagination.
KindyROO
KindyROO is a motor development program, which is designed by expert neurologists and supports the learning skills of babies and children. Children develop their mental and physical skills at the center by performing different activities such as music, body awareness and coordination activities, and playing amusing games around a different theme every week. The program also supports the development of children's social communication and fine motor skills.
Children can take a book from the library on the ground floor and read it in the tree hole and also have a great time in the game room. They can be the captain of a specially designed wooden vessel at the corner of the playroom and sail to the open sea, while camping and swinging with tiny animals in a huge tree at the other corner.
Splash time with your child
The benefits of swimming for children are immeasurable; ranging from strengthening the musculoskeletal system to positive, psychological effects on a child's development. Pamir was only eight weeks old when his mother, Yasemin Sanar Çulha, introduced him to the water. As an infant and preschool swimming instructor, Çulha recognized the peaceful and happy behavior from her baby when he was in the water, which inspired her to take courses on infant and preschool swimming in Britain. She later established SwimBaby courses in Istanbul. At SwimBaby, an infant and preschool-based curriculum was developed by Australian swimming coach Laurie Lawrence for infants and their parents. The entire program takes five weeks to complete and is divided into three different age-appropriate categories.