Spring is just around the corner and that means festival season is here. In Turkey's Aegean region, springtime is marked with lively parades, tasty events for foodies and traditional festivals that will continue into the sizzling summer months. To prepare you for three months of fun, sun and entertainment, we have put together an Aegean city festival guide, offering information about the finest events in Turkey's most colorful region.
Alaçatı Herb Festival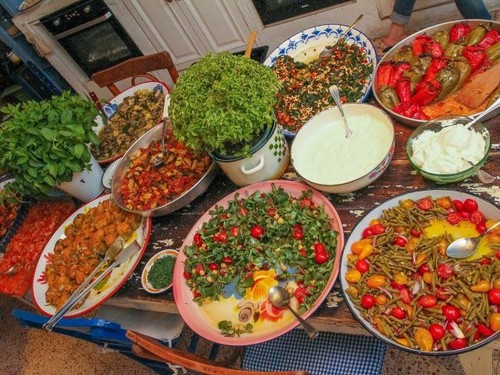 The most well-known and popular festival organized by the Çeşme Municipality, the Alaçatı Herb Festival will be held for the eighth time this year on April 6-9. The festival will host thousands of visitors this spring for what has become a tradition for horticulturists featuring competitions in herb collection and herb inoculation in one of the most popular activities across the country.
Visitors will get a chance to learn about local flavors, collect herbs, and attend food workshops and nutritional seminars about the dietary benefits of wild herbs and plants.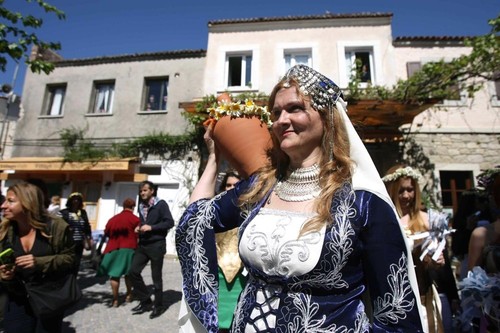 The cortege of the festival is a witness of many colorful sights. While thousands accompany the cortege, the most popular event is the herb collection and best herbal food organized at the antic theater in Alaçatı on the last day of the festival.
İzmir Organic Life Festival
İzmir Organic Life will give you a chance to learn from several workshops and conversations with professionals, who will equip you with the skills needed to cook your own organic food at home, empowering you with information from talented, experienced, fun and world-renowned chefs.
Attending this festival will allow you to learn new recipes and cooking methods to surprise your families with when you return home. Here, you will enjoy barbeque made of completely natural products while taste-testing these products and savoring a delicious meal at the same time.
You can meet organic producers, boutique organists, natural and healthy food connoisseurs, boutique natural product vendors, designers, large organic firms, additive-free product companies, organic textile suppliers, organic cosmetics suppliers, yoga centers, healthy living saloons, vegan cafes, organic supplementary and complementary food brands and obtain details about these brands. The festival will take place at the İzmir Arena.
Didim Vegan Festival
The first vegan festival of Turkey will be organized April 29-30 with the cooperation of the Didim Municipality and the Turkish Vegan and Vegetarians Association in Didim. The festival has been established on the three fundamental principles of veganism: ethics, ecology and health.
Within the scope of the festival, non-governmental organizations (NGOs) and associations will organize panels and chats. Vegan food, cosmetics and clothing companies will be able to offer their products at their stands.
Furthermore, vegan chefs will be invited to cook and serve vegan food.
In addition to historical and touristic attractions, Didim will be promoted at the festival with its rich and multifaceted cuisine. Hosting both local and foreign tourists, vegetarian and vegan menus will be offered at the hotels and restaurants in Didim.
Throughout the activity, delicious vegan alternatives will be offered to visitors. You can visit our cooking workshop to find out about the local herbs of Didim, create tasty alternatives and learn how to prepare unique vegan recipes from the experts.
Urla Scarecrow Festival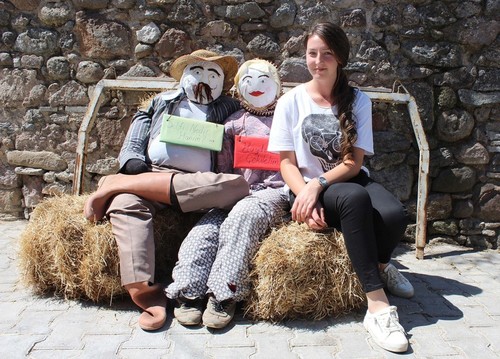 Organized for the second time in the Barbaros village of Urla, this thematic festival will take place May 19-21. Residents of the Barbaros village who last year had welcomed guests with 300 "oyuklar," a local word for scarecrows, have plans to build 500 this year.
Many volunteers from various universities, photography clubs and various NGOs attended the preparation phase and the first workshop of the festival, which was organized by İzmir Atatürk Organized Industry Zone's (İAOSB) Photography Club.
Members of the club built 40 scarecrows to support the residents of Barbaros.
Scarecrows are used to protect crops and are the symbol of the festival. Therefore, the activity is now known as the Barbaros Oyuk Festival, using the local word for scarecrow. The meaning of the symbol is more than just protecting the crops but also traditions, the environment and cultural values.
Interesting events, workshops and competitions organized at the festival aim to enhance awareness about the values about to wither, increase production and turn Barbaros into a brand. Therefore, the local community is targeted in order to stop migration from villages to cities and to ensure that the young population returns.
İzmir Chocolate Festival
The İzmir Chocolate Festival will be held at one of the most popular event venues of İzmir, La Vie Nouvelle, between March 31 and April 2. It includes everything that you can or can't think of related to chocolate. The three-day festival will be open from noon until 10:00 p.m., welcoming chocolate lovers for fun cultural and arts activities.