Female teachers who work for primary and middle schools in the Eğrice neighborhood of Suruç, Şanlıurfa, in ground zero of the Syrian-Turkish border, are making the utmost sacrifices in their professions despite the hardships they face. Teachers living and working in Eğrice, located right across the border from the Ayn al-Arab district of Aleppo, remain committed to their professions despite being near the scene of heavy gunfire and conflict due to the ongoing Syrian Civil War.
Arzu Kartal, 23, an English teacher from Zonguldak, said Suruç is quite different from her hometown. While she confessed that she has experienced difficulties since she was first assigned to work in Suruç, she overcame the hardships in time. Explaining that teachers there continue to work very hard for their students, Kartal said: "Before I came here, I was afraid. Yet, as soon as I set foot in Suruç, I realized that people are exaggerating the situation here. There are teachers coming from all over Turkey who work here. We are serving the same purpose. Our aim is to prepare these brilliant children for their families and their country. I hope all these children continue their education and become educated and successful adults."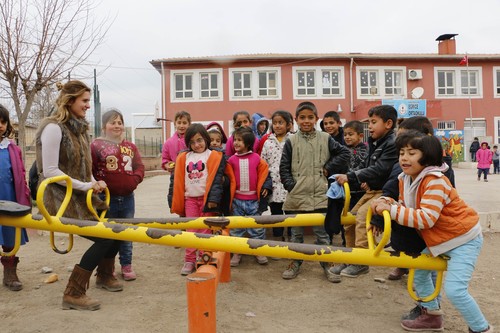 Adana-native Nida Savunur, 23, who is a guidance counselor, began working as a teacher right after she graduated from İnönü University in the province of Malatya last year. Savunur said working on the border evokes a wide range of feelings in a teacher. She said she got used to the location as well as the students despite the hardships she experienced when she first came to Suruç. "My hometown of Adana is not far from here. It is hard to work near the border, however, it is also a beautiful experience. There are not many students here. Since I am a guidance counselor, I am more comfortable. There are nearly 200 students and I know every one of them on a first-name basis and I know their problems. All these things are to my advantage. I do not believe that I would be so close to my students if I worked in a school near the city center. Before coming here, I did not think there would be so many differences between Ceyhan [Savunur's hometown] and Suruç. But everything changes in 300 kilometers [186 miles]."
The young teacher said she is living in Şuruç and comes to the Eğrice neigborhood everyday. "Every place has its advantages and disadvantages. Since I came here, many times I have said to myself, 'Thank God I came here' but I have never said, 'I wish I did not come here.' I have learned so much during my time here. I sometimes have a hard time but it would not be so different elsewhere. In any case, I love my job, friends and students so much," Savunur added.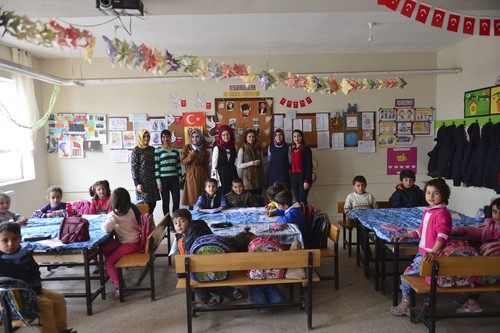 Teachers living and working in Eğrice, located right across the border from the Ayn al-Arab district of Aleppo, remain committed to their professions despite being near the scene of heavy gunfire and conflict due to the ongoing Syrian Civil War.
Due to the armed conflicts in Kobani last year, Savunur said the children in the region experienced psychological problems from time to time. "Last year, gunshots were heard on the other side of the border. It is very terrifying, however, it is even harder for the children. Some of my students told me that they were not able to sleep as they were afraid of the lights coming from the guns and bombs. They are afraid, they cannot go out at night, which is a big trauma for them. I am helping those children," said Savunur.
Turkish teacher Pınar Hava, 24, from Mardin, said she has been teaching in the Eğrice neighborhood for two years. She said it was her dream to teach children and she loves her job. Noting that the cultural traits of Mardin and Şanlıurfa are quite similar, Hava said: "I do not mind working near the border. I am from Mardin. I am familiar with the culture of the region. I have never considered coming here as a disadvantage. Of course, some of the incidents drive you to negative thoughts but I have never experienced such things. In fact, my only concern is to be a benefit for these children. My aim is to work with each and every child personally. If I can touch to the soul of a single student and help them to learn something, that is enough for me. We have a responsibility here and we are doing everything we can to fulfill our duty."
Elementary school teacher Zeynep Tekin, 23, who is from Elazığ, highlighted that teaching is a holy profession. She was assigned to Suruç this year upon her request. "I dreamed of becoming a teacher since I was a little girl. Thank God, I was assigned this year. Before coming here, I had my prejudices but I saw that none of the things that people told me about this region is true. I get along perfectly with my fellow teachers and students. I am considering working here for many years."
Another elementary school teacher Fatma Zorlu was born and raised in Suruç. She said it is a pleasure for her to serve in her hometown. Zorlu works hard to touch the souls of the students, especially encouraging girls to continue their education.
Sibel Avşar from Adıyaman claimed that she is proud to be teaching in Suruç, adding that everything works smoothly in their school which has a very young and dynamic teaching staff.