Ömer Özkan, a Turkish specialist sergeant taking part in Operation Euphrates Shield who made headlines after he saved a cat from the Syrian town of al-Bab, showed the true meaning of loyalty and friendship after he went back to Turkey to visit his feline friend.
Özkan, who went on leave after al-Bab was cleared of Daesh terrorists, on Wednesday visited an animal shelter in southeastern Gaziantep province to check up on his fluffy friend 'Barış' the cat ('Peace' in English).
As soon as he saw 'Barış', Özkan rushed over to the cage, took the cat into his loving arms and hugged him tightly.
The last time the two saw each other was back in February when Özkan brought 'Barış', who was stuck in the middle of a conflict in Syria, to Gaziantep as to keep him safe and help him get the treatment he needed.
Özkan said that Barış had never left his side after he rescued the cat from the rubble of a building in the war-torn city. The sergeant said that when he found the cat it was not really in a good state, as he didn't know for how long it was trapped beneath the rubble.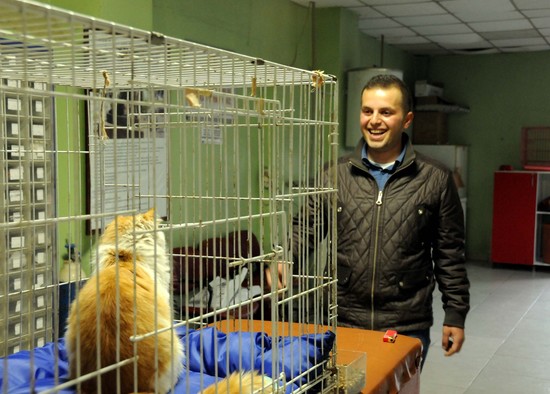 He said that he fed and took care of the cat as best as he could, but was unable to look after it for a long time as he was actively participating in anti-terror operations in the conflict zone.
Özkan had posted a photo of him and the cat on Facebook, asking help from volunteers and animal lovers. A local animal association in southeastern Gaziantep province answered his request. The Gaziantep Association for Improving Animals' Life (CAHİDER) took the cat from the Turkish-Syrian border and took it under treatment immediately.
CAHİDER staff say that the cat's treatment is completed and it is now waiting for a new home in Turkey.