The migration of large flamingo colonies and other migratory birds from different parts of Northern Europe and Africa to the Tuzla wetlands, located in Milas district of Turkey's Muğla province, will soon be broadcast live on the internet.
The migratory birds, flying to the Tuzla wetlands, in the Boğaziçi neighborhood of Milas, was put under state protection in 2001 after the lake was designated as one of the most important bird habitats in the world.
Every December, the wetlands welcome more than 5,000 birds of 230 different species. Flamingos, known as "allı turna" in Turkish, as well pelicans flock in thousands to the region, enriching its biodiversity. The lake, during the migration season, offers a feast for the eyes with colorful birds and attracts great interest from local residents and visitors alike.
Located close to a local highway, the wetlands are often photographed by drivers who stop by to catch a closer glimpse of these migratory birds, capturing their images in their natural habitat.
Speaking to Anadolu Agency (AA), İbrahim Köksal, who is the "mukhtar" or "local administrator" of the neighborhood of Boğaziçi, said the birds come particularly from Northern Europe and Africa, adding a magical touch to the region.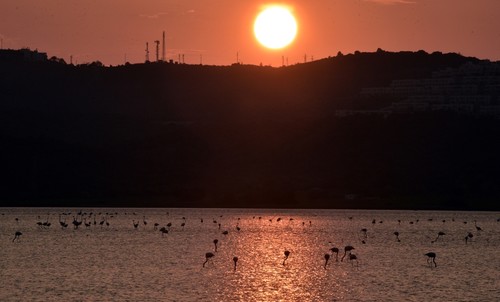 Located close to a local highway, the wetlands in Milas are often photographed by drivers who stop by to catch a closer glimpse of these migratory birds, capturing their images in their natural habitat.
Köksal also said these feathered friends stay in the region for six months and face no problem feeding themselves.
"Environmental conditions here are ideal for the birds. Fish are abundant and we have plants in good condition here. Around 230 endangered bird species, especially flamingos, come to the region every year," he said.
Thanks to the birds, winter tourism in the region has improved a lot, Köksal added.
"Migratory birds have also boosted winter tourism in the region. I believe a little promotion will further improve tourism here, contributing to winter tourism in Bodrum and the greater region. It is a rare beauty and we are promoting the birds and our region on social media. We even have followers from abroad on social media," he said.
Köksal pointed out that some settlements in the area had infrastructural problems and urged the authorities to take necessary measures in order to prevent any damage to the area.
He also said that they will soon undertake a series of new projects in the region. "We have a project that will enable us to watch this area online and live for 24 hours. As part of this project, an array of 12 moving cameras will be installed and people would be able to watch this area from anywhere in the globe. I am sure there will be a considerable number of tourists coming to our region, after some environmental monitoring. Even people in the U.S. will be able to watch this region live, by sitting in front of their computers," he said.
The project has been jointly undertaken by the Muğla Metropolitan Municipality and the Directorate General for Nature Conservation and National Parks, said Köksal, adding that the system will be operational in one year and will cost TL 10 million ($2.77 million) to complete.
The local "mukhtar" said that there was a strong belief among people that if someone hurts the flamingos, they can never be happy again.
Can Özer, a visitor to the area, said, he was traveling with his wife and decided to stop there after seeing the birds. Claiming that watching these birds made him feel great, Özer said, "The birds are quite timid. We walked towards the area very slowly. Despite that, they moved away as soon as they saw us. We can't see these species of birds everywhere. They are very rare. That's why this region needs more protection and promotion. This place has the potential to attract more visitors."
His wife Alesia Özer, who is of Russian origin, said the area was very calm and beautiful.
"I stop to watch the birds every time I'm passing by this area."