"Şükufename," a reference book published by the Istanbul Metropolitan Municipality (IBB) Culture Inc., tells the secrets of the art of floristry in the Ottoman era and Ottoman flowers. It contains interesting information about the history of the tulips that decorate Istanbul in April and May.
Prepared by researcher and writer Dr. Seyit Ali Kahraman, "Şüküfenâme" includes eight of the most important manuscripts of the history of Ottoman floristry in their original language.
First tulip raised by Ebussuud Efendi
According to a story told in Şüküfenâme, a tulip bulb was brought to Ebussuud Efendi, the famous Sheikh al-Islam of Suleiman the Magnificent, from the city of Bolu as a gift. After Ebussuud Efendi planted this tulip bulb, curiosity grew and cultivation began in Istanbul. Although the tulip was found regularly in ancient Anatolia, it became a common flower of Ottoman civilization when it began to be cultivated in Istanbul.
Aziz Mahmud Hüdayi's curiosity
As told in the book, everyone in Istanbul, from the sultan to the grand viziers to the average citizen, attached great importance to tulip cultivation. It is also interesting to note that the majority of flower cultivators were mystic scholars and well-renowned in their fields. Aziz Mahmud Hüdayi Efendi of Üsküdar is also named among these figures. Hüdayi Efendi is not only known for growing flowers but also for encouraging people in this regard.
Over 200 florist shops during Suleiman's reign
Garden and flower culture reached its peak during the reign of Sultan Suleiman the Magnificent in the 16th century, with flower cultivation professionally conducted by people from all segments of society; namely, the sultans, as the reference book explains alongside historical documentation. According to the documents, there were more than 200 florist shops in Istanbul during Suleiman's reign.
Tulip bulb for 1,000 golds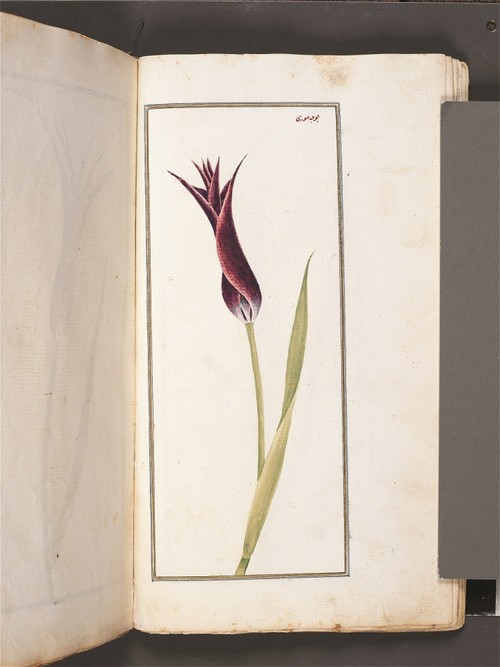 Written sources indicate that a type of tulip, called the Dwarf Purple, was worth 1,000 gold coins and it is also rumored that the cultivators would not sell it even for that amount.
According to the book, tulip bulbs were traded at very high prices and tulip cultivation turned into somewhat of a craze in the 18th century. Written sources indicate that a type of tulip, called the Dwarf Purple, was worth 1,000 gold coins and it is also rumored that the cultivators would not sell it even for that amount.
Contest exclusively for tulips
The chief florist of the Flower Lovers' Association, which was established to meet the intense demand and public interest during the Ottoman Empire, was appointed by the sultan. Cultivators brought their flowers to the florists' parliament where the flowers were examined and given a new name if they were deemed not like any other previous species. There was also a contest to choose the most beautiful flower and it was impossible to participate in this contest with ordinary flowers.
Flowers went Europe with ambassadors
Embassy boards that were curious about the empowerment of the Ottomans in the 16th century were filled with both bewilderment and admiration for the beauties of the Istanbul gardens. Thus, the Ottomans sent these beautiful flowers both in bloom and as seedlings to Europe. After a short period of time, flowers and plants began to be traded from Anatolia to Europe, enabling European gardens to be decorated with these beautiful flowers.
A reference to botanical science
"Şükufenâme," which brings together eight manuscripts on Ottoman flower cultivation and flowers, also contains important information that can serve as a reference to botanical science.
In the book, which features articles on flower cultivation, answers are given to questions such as, "How are tulips, daffodils and cyclamen grown?" and "What are the characteristics of a distinguished tulip?"
The book also includes a list of the flowers mentioned in the manuscripts, such as Istanbul tulips, Cyprus, Crete and Kağıthane tulips, hyacinths, daffodils and carnations.