Internationally acclaimed contemporary artist and director Kutluğ Ataman's house, located in Turkey's northeastern Erzincan province, has received two international architecture awards.
The house, which was built by the Erginoğlu & Çalışlar architectural firm, placed in two categories of the competition organized by the World Architecture Community.
Ataman, the house owner, decided to build the award-winning building on a property in Erzincan, which he inherited from his parents, after discovering his passion for farming and animal breeding.
Ataman wanted both a private residence where he could focus on his new passions and a place in which he could work on his art projects.
The house, which represents modern architecture in eastern Anatolia, has a fantastic view of the nearby Munzur Mountains and is isolated from its surroundings by a densely forested area so that the outdoor and interior spaces are not visible to neighbors.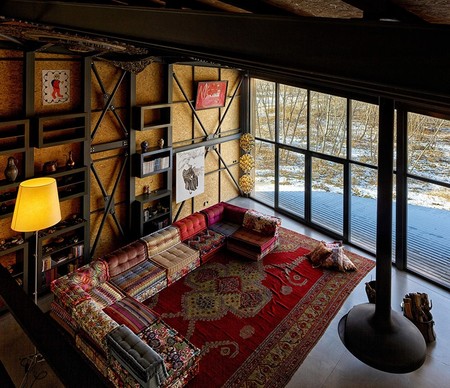 As Erzincan suffered devastating earthquakes in 1939 and 1992, the building was constructed with a steel load-bearing system, which can also be seen from the inside in order to achieve maximum safety and durability.
Speaking about his 468.0 m2 project, Ataman said that he carefully selected house's furniture, adding that the family heirloom ceiling roses were hung up above the living room and that his private collection was scattered around in the interior rooms to enrich the atmosphere.
The World Architecture Community Awards have been organized since 2006.
According to the official WAC website, the competition's aim is to highlight and recognize remarkable projects that that might otherwise remain unnoticed by the international public, yet have the potential to inspire exciting questions about contemporary architectural discourse.