When you think about the world's most crowded metropolises, Istanbul is one of the first cities that comes to mind. Apart from its substantial historical and cultural aspects, Istanbul is undoubtedly a city bustling with modern life. The most densely populated province in Turkey, Istanbul has a population of 14 million, according to the latest data. As a result, the city's infamous traffic jams are the biggest problem for the people living here. On a typical day, Istanbulites brave the unpredictable conditions on the roads and commute to work, often arriving late. Commuters who sit in their cars on crowded roadways, stuck in traffic, often glance at the motorcyclists weaving through the heavy traffic, with both envy and admiration. If you are one of those drivers, there is a new smartphone application in town that will make your life easier and rid you of driver's envy: The new application called "Scotty!"
Scotty is a mobile application that allows ordinary motorcyclists to take passengers wherever they want to go at an affordable price. In a way, Scotty function as the middleman, bringing together Istanbulites and motorcyclists who want to get from one place to another as quickly as possible on a motorcycle. With the Scotty app, you can go from Beşiktaş to Bebek for only TL 10 - which is almost one-third the average taxi fare; plus, you get to avoid the notorious traffic jams of Istanbul. If you are trying to save time, you can easily get into this app and change your traveling habits with a few keystrokes.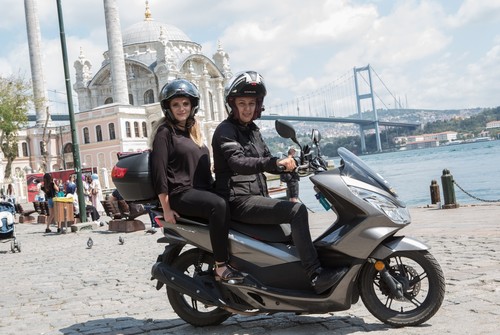 To get an insider's look at all the details, Daily Sabah sat down with Scotty's founder Tarkan Anlar and Marketing Director Cenk Kaya.
Previously involved in various corporate firms and entrepreneurial activities before inventing Scotty, Anlar told Daily Sabah: "We spent six months in practice while preparing the app. We received 6,000 applications from motorcyclists but we currently have 600 active cyclists that we have approved for the app. Likewise, 16,000 people have traveled with us this month alone. We are now aiming for even higher numbers. We have reached large masses in quite a short period of time."On the other hand, Kaya, who is a motorcyclist himself, said he may not get the chance to be a Scotty driver due to the set criterion but he continues to contribute to the application as marketing director. "Now, the age group of Scotty drivers is very broad: we have motorcyclists of all ages. In addition, we have four female drivers. Those who drive for our app are going on a journey from one place to another and socializing - regardless of their gender or their age," he said.
How does it work?
Well, Scotty surely comes in handy when you are stuck in an Istanbul traffic jam but how can you use it? After you download the application, simply select the region you are in and select your destination. The system informs you how far your destination is and the fee to be paid. Afterwards, the system searches for nearby motorcyclists. The best part of the application is that the system opens from TL 3 and increases by only TL 1 per kilometer. Hence, Scotty is very affordable and allows you to go where you want in a very short amount of time.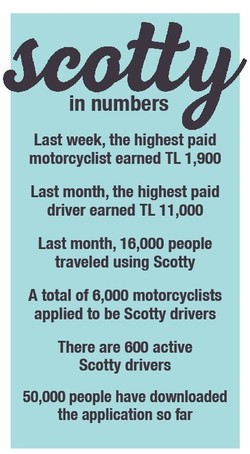 Is it safe?
Motorcyclists go through a lot of tests and compete on a racecourse before being approved to join the Scotty family. Moreover, cyclists are obliged to bring bonnets for hygiene and helmets for passengers. If you decide not to use Scotty or are not satisfied by your experience, you have the right to cancel your trip after you have called the driver, or during the trip. Still, this cancelation right applies both ways; motorcyclists are also able to cancel routes, as well. If the motorcyclist is not happy with the passenger, he or she has the right to cancel the trip.
"The application is actually sharing a trip; both sides have to be happy and satisfied because our users are not typical drivers; they are motorcyclists and enthusiasts. We want to increase the respect for the motorcycle and motorcyclists and crown them as the heroes of the city," Kaya said.
How can you become a Scotty driver?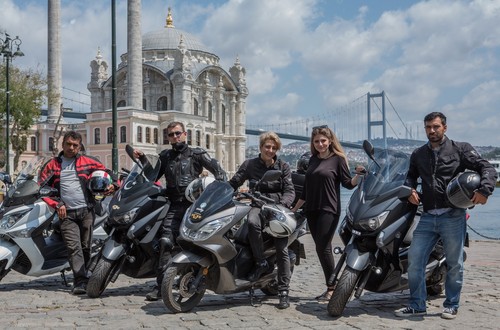 First of all, when you download the app, it allows you to indicate whether you want to be a driver or passenger, and a screen opens accordingly. When you have chosen the "driver" field, fill in the necessary blanks and wait for an answer from Scotty. Keep in mind that you cannot become a driver instantly. The Scotty driver candidate is tested for his or her driving skills on a full racecourse. After successful driving and reaction checks, Scotty will invite the candidate to be a new member. You may not have to spend your entire day as a driver, since most users are using it to socialize and generate revenue in their free time. The drivers are actually pilots, engineers, car washers, etc.Investment from Silicon ValleyScotty, which is a new application in Turkey, is actually a concept that is already being put into practice in many countries.
The Scotty team intends to make Istanbul a hub for motorcyclists and is exerting extra effort as not to lose the quality of the app itself. Scotty's success in reaching the masses in a very short span of time has also attracted the attention of Silicon Valley. Scotty signed a very substantial investment agreement with CEOs from the world's biggest start-ups in Silicon Valley. In doing so, their goal is not limited only to Turkey: They hope to make this a global project.