A Dove advertisement released Saturday incited criticism over its racist implications. The ad, a three-second video posted on Facebook, shows a black woman removing her shirt to transform into a white woman, next to a bottle of Dove lotion.

Dove, a Unilever company, briefly apologized for the ad, saying it "missed the mark."

Disgruntled consumers were left wondering about the commercial's intent, with many calling for boycott of the beauty product company. Nearly 3,000 comments in response to the company's apology were almost exclusively negative.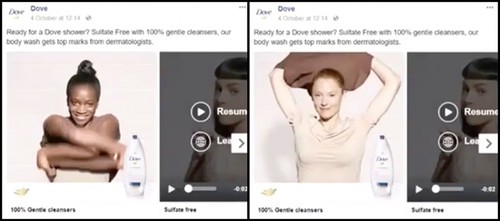 "What was the mark?" self-described Dove consumer Ariel Macklin wrote in comment liked more than 1,100 times. "I mean anyone with eyes can see how offensive this is. Not one person on your staff objected to this? Wow. Will not be buying your products anymore."

A white-supremacist group even posted on the company's Facebook page: "We enthusiastically support this new direction your company is taking. I'm glad we can all agree that #WhiteIsPurity."

In 2011, another Dove ad article was criticized for implying its soap would lighten skin tone. The ad showed three women standing beneath two magnified skin images, with the black model under "before" and the white model under "after."

In April of this year, Nivea's deodorant ad stating "white is purity" met similar criticism.

These incidents add to a long history of soap companies entertaining racist imagery. A famous ad by the company N. K. Fairbank around 1900 featured a white child asking a black child, "Why doesn't your mamma wash you with Fairy soap?"