Europe's largest freshwater Aquarium-Vivarium, AQUATIS opened on Saturday in Lausanne, Switzerland.
The huge structure houses 10,000 fish from five continents and 100 reptiles in 20 different ecosystems.
AQUATIS has 46 individual aquariums which contain almost 2 million liters of freshwater, making it the largest freshwater aquarium in Europe, with a surface of 3,500 square meters.
Visitors can also see 300 plant species.
Its first floor is dedicated to Europe and a tour follows the path of the Rhone river from its glacial origins to its arrival in the Mediterranean Sea.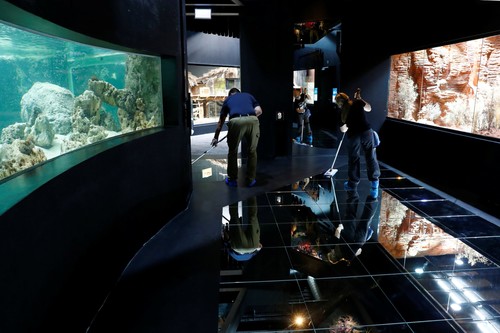 On the second floor, the tour takes the visitors to the African lakes, the Congo River, the Asian mangrove forests, the Mekong River with its floating villages, the Pioneer River which discharges into the Great Barrier Reef and Amazonian forests.
It will also house some endangered or threatened species, such as the Komodo dragon.
More than 1,000 visitors per day are expected and an adult ticket will cost 29 Swiss francs (US$30).