Turkish honey producers are becoming more interested in producing the royal jelly along with honey, head of the Ordu Association of Beekeepers (ORAY-BİR) Akın Çiftçi said.
The royal jelly, known in Turkish as "arı sütü" which means "bee milk," is a milky secretion produced by worker honey bees.
According to Çiftçi, the interest in producing the royal jelly is largely boosted by its high price despite how hard and troublesome it is to produce it.
"A gram of royal jelly is sold for seven [Turkish] liras ($1.85), while a kilogram — for 7,000 liras," Çiftçi said.
He also said the royal jelly has to be kept in 10-gram tubes away from direct sunlight in a fridge.
"The royal jelly should definitely not see the sun. If it sees the sun, it will be spoiled and it will not have any benefits afterwards," Çiftçi added.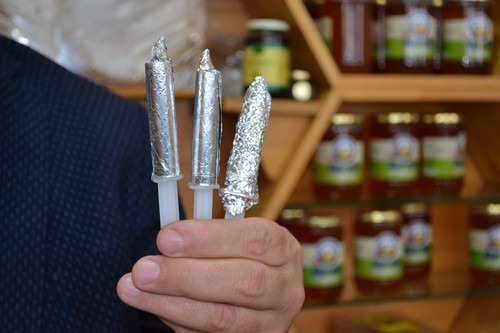 The head of the ORAY-BİR warned that some products sold in stores as royal jelly were not actually real.
Royal jelly is known for a wide range of medical benefits, including boost of immune system, and counters allergic reactions, helping Alzheimer's Patients and containing beneficial probiotics. It is also used as a general health tonic for fighting the effects of aging and skin disorders.
Turkey is the world's second largest producer of honey after China, and is responsible for roughly 7 percent of the world production.
Turkey produces more than 100,000 tons of honey annually.