Pera Education has created an extensive program for children who want to spend their semester break exploring art at the museum. Inspired by exhibitions currently at Pera Museum, it is offering 15 workshops to children between the ages of 4-6, 7-12 and 10-12 from Jan. 23 to Feb. 4, 2018. The workshops organized within the scope of the "Look at me!" exhibition promises to inspire contemplation about the concepts of identity and emotion through portraits, while the young students create their own artwork. The workshops in the scope of "Re/framing Louis Kahn" will be offering a glance at the work of American architect Louis Kahn while offering the children the chance to reinterpret his work through his light and shadow techniques. The children will also get to discover the art of architecture.
4 to 6 year-olds create portraits
Inspired by "Lunch Break" by British artist Sharon Lockhart, who is included in the "Look at me!" exhibition, the "My Portrait from Nature" workshop invites participants to create their own portraits with natural materials, such as leaves, branches and pine cones.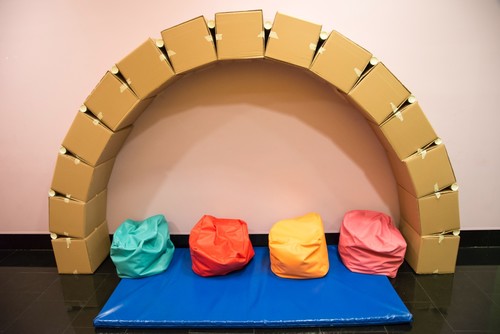 In a workshop that focuses on archs, participants will create arches made by the Roman Empire Constantine with stones and by Louis Kahn with bricks, boxes and tubes.
By establishing a connection with ceramic artwork, "Amber Smoot" by Spanish artist Pedo Mora creates awareness about various metropolitan identities. Participants will examine the portraits included in the "Look at me!" exhibition of British artist Gillian Wearing and create a family album by considering different characters in the "Me in the Album" workshop. The "What is that face?" workshop was inspired by the Spanish artist Esther Ferrer's "Surprise, Arrogance, Misery, etc. etc." video installation, and the participants will pair up, make sense of their partners' facial expressions and draw them on giant pieces of cardboard.
"Plan, Section, Appearance," focusing mainly on the technical drawing concepts of Louis Kahn and his contemporaries, will offer the chance to create a mock-up building, which will be disintegrated into sections and parts. At the "I'm Planning a Museum" workshop, the children will design a museum according to what they would like to see when they visit, highlighted by Louis Kahn. During the workshop, every child will list their own preferences and ideas, and then find answers to questions like: "What kind of a museum would I like? Which one of these wishes is a need?" Finally, the children will present a museum plan designed through sketches and watercolor. The "I Seem to Know You from Somewhere" workshop starts with a tour of the exhibition and offers abstract perspectives on architectural structures in terms of geometric shapes.
7 to 9 year-olds dance with portraits
The "Dancing with Portraits" workshop, also inspired by the "Look at me!" exhibit, brings together works based on relaxation, coordination and physical creativity. Choreographer, dancer and academic Tuğçe Tuna will be interpreting the visibility and stability of bodies through portraits.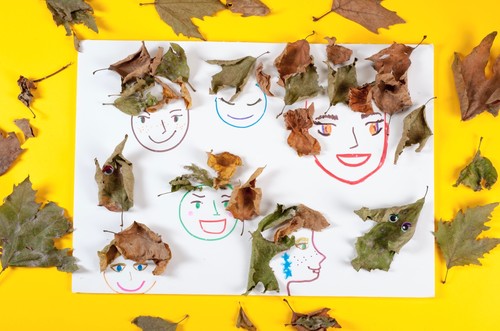 The "My Portrait from Nature" workshop invites participants to create their own portraits by using natural materials, such as leaves, branches and pine cones.
7 to 12 year-olds expand their horizons
The "Sculptures are Moving: Reality and Dream" workshop, inspired by the British artist Sharon Lockhart's "Lunch Break," invites participants to play a game by posing to playing music and freezing when it stops, a process that allows the children to create their own production. The idea is to allow each dancer to reflect on how the stage is perceived. The "A Voice from Each and Every One" workshop invites participants to create their own characters to discover unique voices. They will make up interesting voices and create characters matching characters to make original stories. At the end of this workshop, the children will be able to take the clay mock-ups of the characters home.
"By the Power of Grayskull" focuses on the concept of shadows, one of the main elements of architecture in Louis Kahn's work. The workshop will tackle questions like: "What creates a shadow? Is there such a thing as a colorful shadow? Can something have different shadows?" To find the answers, the participants will create their own light boxes to project their tiny drawings onto giant sheets of paper on the wall. "This Arch is a Different Arch" was inspired by Louis Kahn's question, "What would an arch want to be?" The participants will create archs styled after those used by Roman Emperor Constantine with stones and by Louis Kahn with bricks, boxes and tubes.
10 to 12 year-olds focus on their bodies
Inspired by portraits by British artist Gillian Wearing that portray the youth of family members, the "Remaining the Same? Or Changing: A Philosophy Workshop" questions the duality of change and sameness. The participants will discuss growth and change versus remaining the same. During the "Memory, Fiction and Dance" workshop, which revolves around physical balance and coordination, the children will gain self-confidence while experimenting with improvisation, memory, fiction, concepts of reality and appearance. "What Would Windows Say If They Could Talk?" is a workshop that discovers what lies beyond architectural drawings by examining windows, doors and columns by giving them a voice with text and dialogue.