A 25-year-old Swedish activist has commenced a treacherous walk from Sweden to Palestine, to raise awareness about human rights violations in the occupied territory.
Benjamin Ladraa says he was so moved by a three-week trip to Palestine last April that he decided to "tell the world about the situation in Palestine".
"I was shocked by what I saw there, seeing all the walls, soldiers walking along the streets carrying M-60 machine guns. I heard stories about 300 children in prisons, rapes in homes.
"After three weeks I returned and wanted to do something to raise awareness about human rights violations in Palestine," said Ladraa, who was born to Jewish parents.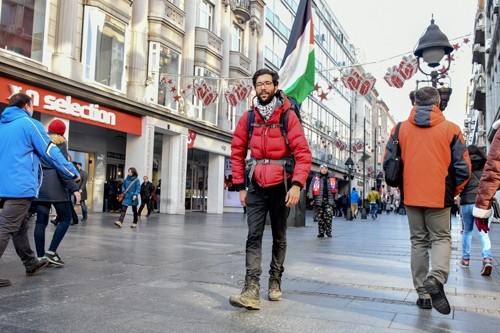 After giving up his studies and work, he set out on his 5,000 kilometer journey from Gothenburg, Sweden to Palestine on Aug. 8, last year.
Ladraa is always on the move, carrying the Palestinian flag on his back and a keffiyeh, a symbol of Palestinian independence, over his shoulder.
Each day is a different experience for him, he says. Sometimes he sleeps in his tent or in a hostel. Dinner may mean eating canned food by a campfire or a meal shared with hosts he meets during his journey.
Ladraa sometimes holds lectures, where he tells his audience what he saw during his Palestine trip.
With the exception of some standalone incidents, he says most people welcomed him.
In Prague, he says, he was detained by guards of the Israeli Embassy because he was carrying a Palestinian flag and pushing a trolley.
He was released after a bomb squad ensured was not dangerous.
However, the guards scanned his passport and Ladraa fears border troops will not let him enter Palestine.
"The plan is to continue through Bulgaria, Turkey, Syria, Lebanon, and again through Syria to Jordan, and if I cannot get into Palestine, I will try to inform the media about it," he said.
He posts pictures of his journey on his Facebook and Instagram accounts under #walktopalestine.
Ladraa, who occasionally worked for the Red Cross, saved for about a year for this trip.
He says he has sold everything he owns. Sometimes he receives donation.
He is expected to complete his journey in June or July.
"I think everyone can and should give a little time to do something for other people," said Ladraa, who sets off from Belgrade on Saturday.