Forty students, all young girls, who attended the ballet course opened in the Dinar district in Afyonkarahisar province have had training from Russian ballet master Nataliya Gorelova.
Having graduated from Lomonosov Moscow State University Choreography and Ballet Pedagogy Department, Gorelova dealt with this art for many years in her country. Coming to Turkey for the April 23 events of Turkey's public broadcaster TRT in 2000, Gorelova liked the country very much and moved to the Antalya province in 2006.
She opened a ballet course there and later in Isparta province. After she had some requests from families who live in Dinar and are impressed by the shows of Gorelova's students, she started to teach little girls in this district, as well.
Forty little girls both have an elastic body and get social with shows they prepare with the disciplined training that they received to be ballerinas.
Speaking to Anadolu Agency (AA), Gorelova said she has provided classical ballet training at the Antalya State Conservatory Performing Arts Department for two years.
Explaining that she moved to Isparta and opened a course in there after huge demand, she said, "I have been providing classical ballet and choreography training in Isparta for almost 10 years. Many girls continued on to the conservatory and ballet departments."
Noting many people from Dinar register for the course as the district is very close to Isparta, she added, "Families demanded a course here. Dinar Mayor Saffet Acar supported us, as well. Both our students and their families see the ballet training as a serious and academic process. Ballet training continues for eight years on average. Our aim is to train these little girls and enable them to win fine arts and ballet departments."
A ballerina body indicates health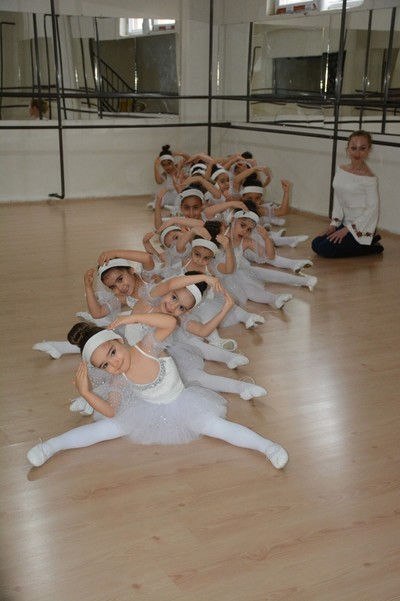 Gorelova stressed that she is really satisfied with her little students and tryies to teach them with limited opportunities.
"We are planning to perform a few shows in the spring and summer months. Our children are really little but ballet training should start at very early ages. They get used to the discipline in ballet training in this way. When they cannot manage or get bored, they can give up. It isn't possible for everyone to achieve ballet. It requires patience. They become responsible and disciplined with our training at their early ages. This reflects on their behaviors, school and family lives. They also start to live healthily. The body of ballerinas indicates health. Even if we look like very skinny, we are really strong. Ballerinas don't put on weight so much but they are really elastic. We have a great posture. With proper exercises, shoulders and back of our bodies become healthy. The disciplined training reflects on their characters," the ballet master continued.
Solidarity between students and parents
Remarking that France and Russia are the prominent countries in classical ballet training, Gorelova expressed, "Classical ballet and piano are the most difficult arts. Turkish children start ballet when they are four or five. Families have important roles in the training. The families in Dinar give importance to their children's training. I negotiate with parents before they register their children as the training is really difficult and requires long practices. This art isn't like other sport or course branches. Our families make their children practice at home. The solidarity between our students and their families is perfect. Many parents dream of a ballet department for their children's future education."
The number of students increases every day
Dinar Mayor Saffet Acar mentioned that art of ballet means an important disciplined training. Drawing attention to children learning teamwork and performing together in their shows, Acar said, "Ballet master Nataliya came to Dinar upon our demands. Even if we are a small district, the ballet course attracts the attention of the people. We have nearly 40 students. The number of the students increases every day. Students who have ballet training can catch the attention of people with their walking, sitting, going down and climbing up stairs. They are careful since they have been trained in a disciplined way. Our children and their families are really happy. The ballet course is really prominent in Dinar while it can't be sustained in many metropolises. Students and families often thank us for it."
'When she is happy, we are happy, as well'
Ayşegül Yüksel, one of the parents, said her daughter willingly attends the training even though she is very little.
Noting her daughter regularly practice at home after a lesson, Yüksel continued, "She started ballet at a very tender age and ballet became her aim. She comes to the course willingly and loves it very much. She is social while she is performing with her friends on the stage. It is also good for self-confidence. When she is happy, we are happy, as well."