As part of the Global Entrepreneurship Week (GEW) celebrations in Turkey, enterprises, angel investment networks and top venture capital managers from around the world came together in Istanbul at the Global Entrepreneurship Congress (GEC).Organized in Turkey for the first time, GEC closed on April 19 with global business and entrepreneurship ecosystem leaders taking the stage on the final day of the congress at Hilton Bomonti Istanbul.
The future is not in the Silicon Valley
While the four-day congress held closed-door events on the opening and the closing day; it organized public events, including panels and workshops, on April 17 and 18.
The program focused on "Innovation Culture," "Exponential Thinking," and "Zero Barriers." It hosted entrepreneurs, investors, representatives from nongovernmental organizations, as well as university and high school students.On the last day of the congress, business and entrepreneurial ecosystem leaders from Turkey and around the world took the stage.
Alex Salkever, the author of "The Driver in the Driverless Car," pointed to the contribution of human imagination in a world where entrepreneurs overcome new challenges using technology."We are breaking boundaries in every aspect. The future is not confined to the Silicon Valley; great technology can be produced elsewhere. Technology has begun to solve our biggest challenges. An entrepreneur can now access the support systems faster," Salkever said.
3,000 participants from 170 countries
More than 3,000 participants from over 170 countries were present at GEC18IST. The congress held more than 150 sessions with the participation of some 300 international speakers.
The fact that GEC, held in different countries every year, was hosted by Turkey in its tenth year was a great opportunity to exhibit the country's entrepreneurial power on the international stage.
Shedding light on Turkey's entrepreneurial story, Endeavor Turkey Chairman Emre Kurttepeli said Endeavor was their gateway to Turkey and its entrepreneurial ecosystem.
"I am also investing in entrepreneurs as a founding partner in Turkey's largest angel network. Angel investors are providing the mentorship needed for companies. They say the angel investor knows everything, but angel investors can steer the company to the right people without knowing everything," Kurttepeli said.
"We can think of them as some kind of mediator. I have seen very good companies that could not find an angel investor, but finding an angel investor is now easy. A good company should know not just how to raise funds, but where to find them," he said.
GEC18IST was officially inaugurated by President Recep Tayyip Erdoğan and the Minister of Economy Nihat Zeybekci on Monday, April 16.
The congress kicked off Tuesday, April 17, with the opening speeches of Global Entrepreneurship Network (GEN) President Jonathan Ortmans and GECIstanbul Organizing Committee Platform Chairman Ali Sabancı.
Space can be the center of unlimited ventures
Space exploration has become the latest playground of entrepreneurship. GEN Space Director Stephan Reckie said that entrepreneurship offers a chance to explore space-related opportunities."To gain experience we can work internationally with different entrepreneurs. Space and space technology entrepreneurship does not have any age or cultural barriers. From the global entrepreneurship ecosystem's point of view, it is possible to see that space is full of potential," Reckie said.
NASA Astronaut Greg Johnson argued that it is necessary to focus on studying space by moving away from traditional methods. "You can now think of the international space station as an innovation platform. Space is an important point about ecosystem entrepreneurship. Space should no longer be considered in traditional ways," he said.Valerie Vlasenko, founder of VSpace News, on the other hand, said that space will be a new field where incentives will increase. "Being an explorer is in our nature, so it is very important to focus on it. I think we should go out of our comfort zones and do something. It is very important to go beyond the limits. Funds, governments and angel investors are helping startups' space-related ventures," he noted.
A budget of TL 8 million for ventures
The GEC Istanbul Organizing Committee, which will strengthen Istanbul's place in the world as a regional entrepreneurial center, is composed of Endeavor, Habitat, Turkish Exporters' Assembly (TİM) and The Union of Chambers and Commodity Exchanges of Turkey (TOBB), under the presidency of Ali Sabancı.
The strategic partnership of the congress was undertaken by the Koç Holding and Sabancı Holding, while Pegasus Airlines was the official Airline Sponsor. A total of 65 institutions were among the supporters. Thanks to the support of all these institutions, the congress had a budget of TL 8 million ($1.99 million).
Corporate-startup collaborations
In the session entitled "Corporate-Startup Collaboration: Workup by İşbank," held on April 18 at GEC, İşbank's Digital Banking Manager H. Mete Güneş shared the support given to the entrepreneurial ecosystem by İş Bank and the details of their one-year-old Workup entrepreneurship program.In the panel, moderated by Workup leader mentor Ömer Erkmen, Piri Guide CEO Tülin Yücel Altaş and Octovan Software Engineer Kutay Demireren shared their experiences since the birth of their startups and the importance of corporate-startup collaborations.
Startup Turkey 2018 celebrates its winners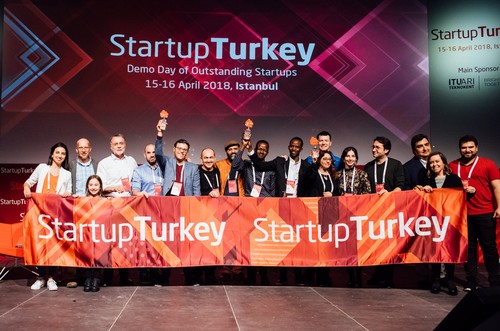 The Startup Turkey 2018 jury selected Smart Data Jogger from Jordan, Somaapp from Tanzania and Vivoo from the U.S. as the best ventures.

Among some 37 finalists in Startup Turkey, one of the largest and most important global entrepreneurship events, the three most successful projects were selected by the jury and other participants.
The first of the venture events in Istanbul started off with the 10th Startup Turkey Conference. Among the 37 finalists in Startup Turkey Challenge 2018, Smart Data Logger from Jordan ranked first, followed by Somaapp from Tanzania and Vivoo from the U.S.
The event, organized by Etohum this year, had nine semifinalists make their presentations in front of the jury composed of Wamda Group President Fadi Ghandour, Author Alex Salkever, Risk Capital Company 1776 Founder Evin Burfield, Yousef Hamidadin from Out of Box Unit and Startup Rising writer Christopher Schroeder. The entrepreneurs also answered questions from the jury about their ventures after the presentations.
The jury selected Smart Data Jogger from Jordan, Somaapp from Tanzania and Vivoo from the U.S. as the best ventures, following the completion of the presentation of nine semifinalists from Indonesia, Estonia, India, Jordan, Tanzania, Sri Lanka, the U.S. and Egypt.
The third prize winner Vivoo joined Startup Turkey from the U.S. and offered an application that allows individuals to follow their own general health parameters and increase the quality of life through personalized suggestions.
Somaapp, a scholarship matching application that won the second prize, participated in Startup Turkey Demo Day from Tanzania. The first prize winner Smart Data Jogger, on the other hand, participated from Jordan as an Internet of Things (IoT) venture creating solutions for the cold chain.
"At the 10th Startup Turkey 2018, we hosted entrepreneurs from different parts of the world," said Etohum founder Burak Büyükdemir said. "The steps we have taken towards making Turkey the entrepreneurial center will continue. We congratulate the winners and all the other ventures who have participated in the Startup Turkey Challenge 2018, which we have held with our distinguished jury members and ITU Arı Teknokent as the main sponsor."

Youth introduced to technology, art

Sponsored by Türk Telekom, the county's largest youth festival, Istanbul Youth Festival (IGF) 2018 will kick off Wednesday, May 2. It will bring together Turkey's youth with the country's largest NGOs and public institutions for a number of cultural and art activities, robotic workshops, sports activities, talks and concerts.
While the participants will have technological experiences in the robotics workshops, they will also be able to visit Turkey's largest mobile digital exhibition.
Young people will also have the opportunity to enjoy concerts of their favorite artists, and listen to important speakers at BistTalks scene. In addition, a colorful festival will also be waiting for young people with e-games, tournaments, interesting workshops and surprise events.
Robotic workshops
Robotic workshops, built in a 9,000 square-meter closed area, are filled with experiences and e-game tournaments that have become a trend among young people in recent years. The young people will experience innovative experiences that will open their horizons in IGF this year.
Today, young people will open the door to new experiences through training, explaining how to best exist in the digital world and how to use the digital in a positive way.
Young people will both play sports and have fun at the IGF's sports fields with basketball, soccer, jogging, spinning, and skateboarding activities. The festival will also organize some exciting competitions for young people.