Found abandoned in a park as a kitten with severely injured paws, "Şifa Boncuk" – which translates to "healing bead" in English – was nursed back to health after seven months of treatment in western Turkey.
Meral Örüç, who lives in Karşıyaka district of Izmir province, found Şifa Boncuk two years ago when she was taking a stroll in a park next to her house. Seeing that the kitten was unable to walk because parts of her paws were missing, Örüç began to care for the kitten.
Initially she decided she would look after the kitten at the park but soon after, Boncuk started to heavily shed her hair, and Örüç decided to take her in.
When attempts to treat the cat at home proved inefficient, Örüç decided it was time for Boncuk to pay the vet a visit. A thorough investigation revealed that the cat lost parts of its paws due to chemical burns and needed intense antibiotic treatment.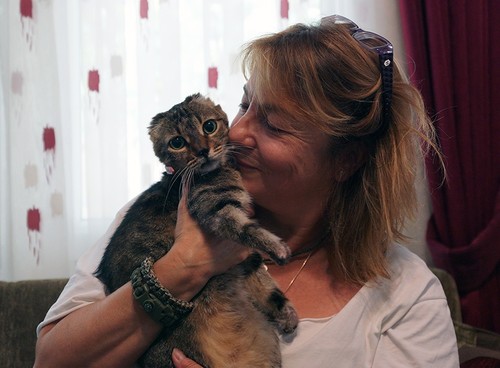 It took around seven months for the vet to complete the cat's antibiotic treatment. Örüç describes those seven months as emotionally draining. "During the treatment she cried, I cried. We never gave up," she recalls.
After treatment was over, Boncuk grew hair back and finally managed to walk for the first time. According to Örüç, Boncuk walks "just fine" these days and can do whatever a normal cat can do, even running around with other cats.
Boncuk was such an inspiration to those around her that she even had an examination room named after her at the veterinary clinic. "She (Boncuk) is a symbol cat for us," said Çağlayan İnanlı, director of Karşıyaka Municipality Veterinary Services.
Örüç wants to write a book about the ordeal to inspire people through Boncuk's story and her struggle for life.