Situated in northwestern Bosnia and Herzegovina, Buzim is a small town with a population of 20,000. Situated on one of the most mountainous part of the country, Buzim looks like a tiny, ordinary Balkan town at first glance but what makes it mysterious and highly popular is the number of twins born there.
Between 1992 and 1995, including during the Bosnian War, 21 sets of twins were born; currently this small Bosnian town is home to 150 sets of twins.
Although the twins were no secret in the town, the high number of twins was first recognized by Necip Vucelj who was trying to borrow a carriage for his baby twins during the time of the war. While he was searching, he discovered that there were more twins in his town that he had previously realized.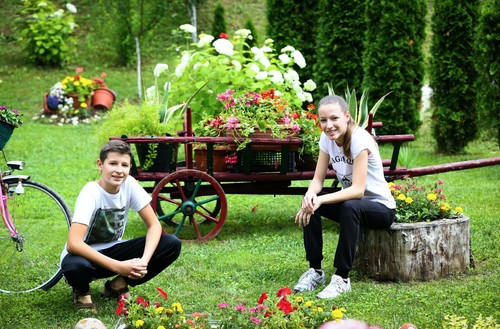 14 year-old twin siblings Davud (L) and Sara.
After the war, the number of twins continued to multiply and now, it is possible to come across twins at every corner of Buzim. Although there is not yet a scientific reason for the number of twins in the town, it is believed that bearing twins is a genetic feature of the women of Buzim.
Speaking to Anadolu Agency (AA), Vucelj spoke about the discovery that brought Buzim into the spotlight in the world.
"My twins were born in 1994 and I wanted to take my kids out for a stroll. I asked one of my friends who also had twins to borrow his stroller but he told me that he had lent in to another friend. When I asked his friend, he told me that he also lent it to his friend. Then, I realized that there were too many twins in Buzim and I started to research this phenomenon," Vucelj said.
After discovering the phenomenon, Vucelj started a Facebook page called "Buzim: The City of Twins" and which brought the twins of the city together.
Kemal Dizdarevic who is the father of four-year-old twins Haris and Amir said Buzim is now known for the number of twins it has, adding, his wife's family and his own family have also many twins.
He also added there were 10 twin siblings in the neighborhood he lives in.
Davud Catic, 14, who has a twin sister named Sara, said there are many twins in his neighborhood and school. Stating that he loves spending time with his twin sister, Davud said: "We do almost everything together. We are in the same class. We go to out taekwondo training together. We learn our folk dances and how to read the Quran together as well."