Boğazkale in northern Anatolia's Çorum is historically known as Hattusa, which was the capital of Hittites for more than 450 years.
Now, traditional Hittite dolls made by housewives at Boğazkale public education centers have become the face of the historic city at events and the Tourism Week.
Çorum is one of Turkey's most important tourist destinations, thanks to its natural, historical and cultural riches. The region was home to historic civilizations like Hattians and Hittites, two important Anatolian civilizations.
The Boğazkale District Governorship is working to promote Hattusa, a national park a UNESCO World Heritage site since Nov. 28, 1986.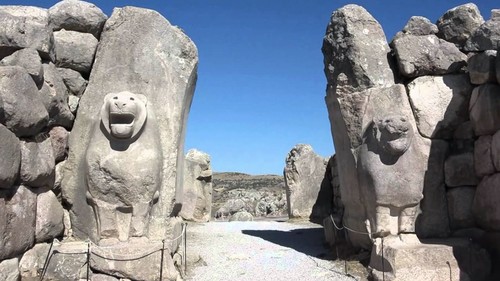 Çorum hosts the cultural heritage of Hattians and Hittites, two important Anatolian civilizations.
The city is known for its well preserved archaeological sites. In addition, the oldest known tablets written in the cuneiform script, one of the earliest writing systems, were also found in Hattusa. They are part of the UNESCO Memory of World List.
To preserve and promote the city's cultural heritage, the district governorship has opened handicraft courses where people, mainly women, learned to make traditional Hittite dolls.
Hittite bread and cookies
District Governor Turan Soğukoluk told Anadolu Agency (AA) that some 609 students have attended 42 courses at the city's Public Education Centers (HEM) this year. They have also paid the allowance to women who attended eight courses backed by the Turkish Employment Agency (İŞKUR).
He said that the Hittite doll making courses have created a bond between the town's women while improving their skills and allowing them to make contributions to the family income. "Our district is home to Hattusa, the capital of the Hittites. This site makes it historically important.
"We were thinking of ways to introduce Hattusa and our handcrafts and came up with the Hittite dolls project. We showcase and sell these dolls, which are mostly produced by local women. They follow the instruction in old Hittite documents. At the Tourism Week, their work received widespread recognition. Through this project we have introduced the Hittite civilization and helped the women contribute to family budgets," Soğukoluk said.
He added that they are also organizing courses on cheese and bread making. "We are also using old Hittite recipes to make bread and cookies. Everyone liked them a lot. We are planning to start mass production next year."
Hittite dolls with 32 pieces
Hatice Cemekli, a trainer at HEM, said the students especially dolls of figures like Hittite kings and queens.
She noted that they were inspired by old manuscripts and reliefs found in the city's archaeological site. "We make Hittite dolls that comprise of 32 different pieces. The figures include Tudhaliya IV and Queen Puduhepa as well as ordinary Hittite men and women. We designed clothes that reflect the era. I made small patterns on the clothes, and our students stitched them."
Hatice Pekşen, one of the students, said she was so happy to take the course. "It has improved my skills and now I can contribute to my family income," she said.