The four legs of the July 15 Memorial, which is covered with Safranbolu marble, represent the "Rabia" notion "One nation, one flag, one homeland and one state."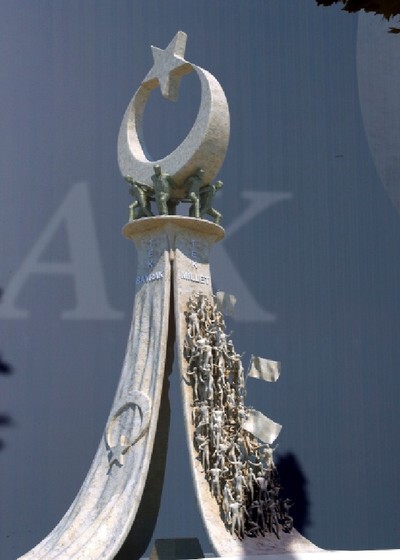 The memorial, which was built opposite of the Beştepe Presidential Complex for the 249 people who lost their lives in the coup attempt on July 15, 2016, will be opened by President Recep Tayyip Erdoğan on July 16.
It is 31.4 meters in height and has a total area of 2,500 square meters, including a 500-square-meter floor space and 2,000-square-meter ceremony area.
In the structure of the memorial, 125 tons of steel was used, and it was covered by 3,400 square meters of rustic green marble from the Safranbolu district of Karabük province.
Around the memorial, there are some sitting places where visitors can rest and a four-stair amphitheater system was installed.
The names and photos of the 249 killed were put into the inner part of the memorial.
SEVEN FIGURES TO REPRESENT SEVEN REGIONS
Seven human figures that carry the star and the crescent on their backs, which is on the top of the memorial rising on four legs, represent the seven regions of Turkey.
While the first leg of the monument has a marble engraving of a Turkish map and the names of the 81 provinces, the second leg has the presidential seal and the stars that represent Turkic States. The third leg of the monument has marble shaped like the Turkish national flag. The fourth leg has the silhouettes of 81 people, covered with bronze, which represents the millions of citizens who took the streets to resist the July 15 coup attempt.
FOUR LEGS AND 'RABİA'
The principles of "One nation, one flag, one land, one state" that had been involved to the party constitution at the Ak Party's third extraordinary congress and pronounced by Erdoğan as "Rabia," is displayed on the four legs of the memorial.