New startups working with agriculture, farming and food supply technologies are improving our ability to develop smarter, more efficient and more sustainable solutions for growing crops and raising livestock while building better supply chains and making food products stay fresh for longer.
These innovations have turned our observation and tradition based agriculture into knowledge, data and analytics-driven production process. Investment in such ventures is constantly on the rise to drive sustainable agriculture and animal farming solutions that can meet the needs of the naturally growing human population.
In fact, as technological ventures set their sight on agriculture, producers and consumers have more to gain than speculators. In an environment where information and data are shared transparently, the winner will be the real producers and consumers.
Cooperation platform
TreeT, part of the Boğaziçi University Innovative Agricultural and Food Management Platform (BOUN Agriculture), Doktar (Digital Transformation Platform in Agriculture), Intellectual Ventures (Agricultural Technologies Patent Commercialization Partner) and Cengiz Sülün (Conventional Agriculture Solution Partner), are all developing solutions that will boost productivity at low cost.
TreeT brings together the academia and business world together by organizing a number of free agriculture and technology panels. TreeT believes that digitalization is needed to increase agricultural productivity and develops solutions that can obtain greater yields at low cost. It then uses these solutions at TreeT gardens and shares the finding with all investors.
The world's largest patent funds, represented by BUBA in Turkey, provide TreeT's agricultural technology patents. Cengiz Sülün, on the other hand, is TreeT's strategic business partner that undertakes the conventional agricultural production.
From producers to consumers
Thanks to agriculture tech startups new and different supply chains are being created. People living in the city want to consume fresh products and have a continuous access to the soil. "Tarlam Var" (I have a field) is a new venture that offers city dwellers the opportunity to enjoy fresh products. Farmers, who are part of the venture, work for products with guaranteed buyers. This startup makes the dream of "from the field to the table" come true.
The startup wants producers to receive the value they deserve, raise their living standards, and for their children to proudly say, "My mother or my father is a farmer." On its website, it says: "We also want the consumers to have access to healthy food, to consume every fruit and vegetable in its season and rely on them as if they were homegrown. We ensure that the producer and the consumer have a scientific, measurable and auditable relationship. Thus, we want our country to use its agricultural capacity in a real sense, be self-sufficient in food and eventually become one of the world's largest agricultural exporters."
Right to use of technology
​
TreeT General Manager Mustafa Tamer said smart investments in the fields of agriculture and food are growing at an incredible pace in Turkey as well as all over the world.
He pointed out that Turkey's agricultural sector achieved a 4.7 percent growth in 2017 and said: "This means there's room for investment in Turkey's agricultural sector and there will always be return." Tamer said that with a good agricultural practice and the right use of technology can make the real difference here.
"We have been working on TreeT's investment policy for a long time. In Turkey, we are working with very strong business partners," Tamer said. "Nowadays, investing in agriculture technologies is seeing a huge growth due to its rapid return and more importantly because it drives the development of our country. TreeT aims to capture the exponential growth in the return from investments by using technology while providing a risk-free business model with income from conventional agriculture.
Key to transformation of agriculture
As a BUBA Business Angels subsidiary, TreeT is an agriculture and technologies investment company. Its most important goal is to invent technologies that will boost conventional agriculture practices in the project, which was realized with an almond garden, spread over 400 acres in Manisa's Salihli district and a 270-acre olive horticulture in Köprübaşı district.
TreeT Agriculture and Technologies aims to be a pioneer in agriculture technology in Turkey. It will pave the way for more agricultural ventures and more investments in Turkey.

Change is happening and the reason is technology




Each profession group emphasized the change that will take place in the near future. CEOs at top companies are pointing to new opportunities and threats while interpreting the future transformed by technology.
According to the telecommunications sector results at the 21st Global CEO Survey published by PwC this year as the "Anxious Optimist in the Corner Office," the internet is changing the traditional telecommunication markets more and more. A very large majority – 83 percent – of the leaders expect change to come from opponents directly or indirectly over the next five years. Three out of four expect change to come from core technologies, customer behavior and sector regulations, while two-thirds expect the change to come from distribution channels.
When asked about the threats to their companies, 45 percent are "very worried" about the speed of technological change and 35 percent about new entrants to the market, while 45 percent are very worried about cyber threats. All these ratios are above the average in other sectors. Cyberattacks are a serious threat especially for telecommunications companies, as telecommunication companies use their own data as well as the data of many customers and companies.
According to the report, telecom CEOs are optimistic about the future, despite the threat posed by digital transformation. More than half of the leaders (57 percent) think that global economic growth will be even better in 2018, considering that 2017 was a good year in terms of global growth.
Protecting both the world economy and optimism about their own companies compared to the previous year, CEOs expect the number of employees to increase with investments in automation. While the negativities created by the new regulations that are constantly changed by the threat of cyberattack and by the governments continue, the CEOs think that these threats can be controlled for now.

112,000 young candidates interested in entrepreneurship

The application process for Turkey Entrepreneurship Foundation Fellow 2018 Program, established to improve the entrepreneurial ecosystem and inspire young entrepreneurs in Turkey, recently came to an end. A record-breaking 112,000 candidates applied for this year's fellowship.
Turkey Entrepreneurship Foundation, which wants to raise awareness in the field of entrepreneurship in Turkey, spread the entrepreneurial culture and promote entrepreneurship as a career choice for young people, continues to inspire entrepreneurial candidates.
The program helps young university students to discover their inner entrepreneurial spirit and guide them through the process. Its motto is "free minds, brave ventures." Entrepreneurship Foundation will determine the young entrepreneurs of Turkey as a result of the selection process, which measures the motivation and the entrepreneurial potential of the candidates.
Young people who have the chance to participate in the Fellow Program become part of a national and international network under the program. The successful candidates will get the opportunity to meet successful entrepreneurs every two months and take them as role models or get inspired by their stories.
The most important missions for the selected fellows is to spread the entrepreneurial culture, create a multiplier effect and replicate the success that they have achieved with support from the society in the direction of the Entrepreneurship Foundation's "give back" philosophy.
Fellows who successfully complete the selection process are also eligible to receive a monthly scholarship of TL 500 ($100) for a year under the program.

Let an insured specialist move your home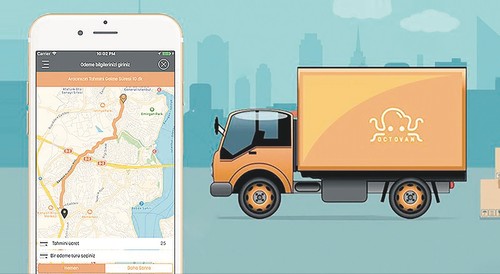 City dwellers must be ready for shifting work and home at the shortest notice. But the whole process can be tiresome and Octovan, a part of Türk Telekom's venture acceleration program, is working to solve this problem. It brings together users who need transportation and commercial vehicle owners. The venture launched its mobile apps and has already begun to attract a lot of interest. Signing a number of B2B agreements with different institutions, Octovan has gained significant experience. They also offers insurance to those who want to move their homes or offices safely.