The Akçaköy Lavender Field in Burdur province's Yeşilova district is the biggest lavender field in Turkey in terms of production and hosts 150 volunteers throughout the harvest season.Volunteers come from all over Turkey to help harvest lavender at the Lisinia Nature Project Center, which has set aside a 370-decare area for the volunteers to harvest the fragrant flowers. Enjoying the harvest in the endless, purple field, they have the opportunity to learn about lavender and the products that are produced from the flowers as well as embracing the chance to sink their hands into the soil.
For those who want to appreciate the blooms from afar, select areas have been set aside for visitors to take photos throughout the harvest season until the end of August.
The volunteers are able to enjoy a unique getaway, setting aside classic vacations dependent on the sea, sun and sand to harvest lavender in the vast gardens.The center's founder, Öztürk Sarıca, told Anadolu Agency (AA) that they have been running the volunteer project for 10 years and host nearly 1,000 volunteers annually to support businesses related to the lavender harvest at home and abroad.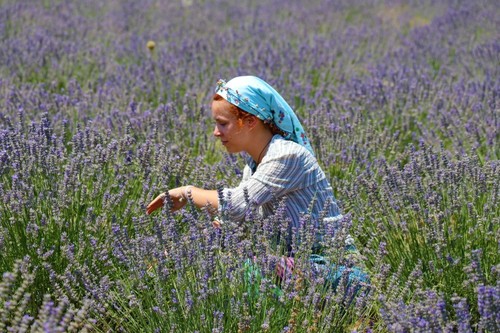 Sarıca said the volunteers are also able to attend workshops on subjects related to wild animal care, natural education, chemical-free production and water conservation.
Sarıca also noted that the lavender harvest is especially popular this time of year and said: "We host many volunteers during harvest season. They come and participate in the harvest. They have an opportunity to see how these flowers are dried, and how lavender products are made."
He also said the nature project covers the accommodation and meals of the volunteers. "We hosted foreign volunteers from Austria, Germany, New Zealand, Taiwan and China this year. There has also been a clear increase in the volunteering activities of Turks. Istanbul, İzmir and Ankara are the leading cities in the number of volunteers. This year, we hosted the highest number of visitors from Istanbul. We try to place our volunteers in accordance with the capacity of our area. We schedule the harvests as two- or three-day events since the demand is really high. We want everyone to be able to participate in the harvest."
Sarıca also drew attention to the fact that lavender is a universally appreciated crop that is used for a variety of purposes around the world.
As for the ongoing harvest, he explained: "We work in a total area of 900 decares. We'll host 150 volunteers over a month in a 370-decare area, which is the biggest lavender garden in Turkey in terms of production and one of the most important ones in Europe in terms of visual beauty. Anyone who loves lavender is welcome to visit us."
Gözde Erten, a veterinary student, came from Istanbul to attend the lavender harvest for the first time. Remarking that lavender gardens are also found in other places in Turkey, Erten indicated that this garden is much bigger and more beautiful than the others.
She also said she appreciated that the lavender gardens in Burdur province are designed to promote medical aromatic plant production and added: "Lavender is one of the most important aromatic plants in the world. Therefore, this is a great opportunity to volunteer and work with it at Akçaköy Lavender Stream."
Communication graduate Minel Yörük, from İzmir province, said she will be visiting Burdur for a week. "Seeing the lavender that has become so famous in photos in person in its natural state and the products that are made from it is amazing."
Remarking on how she learned many things about soil and lavender, Yörük said: "I learned how to harvest lavender as well as how to make tea, small bags and cream from it. In this respect, everyone who volunteers here helps each other. We work well together."
Börte Çiçek Sipahi was also among those who came for the lavender harvest. Coming from the capital Ankara, Sipahi has been attending the volunteer harvests for two years. "I feel really good when I do something for nature. This is why I'm here. This place is truly beautiful. It appeals to both the eyes and the souls of people," she said.