Hasan Parlak, of Bursa, publishes an Ottoman-Turkish newspaper in a bid to transfer the Ottoman language to new generations and create a source for those who want to learn it.
The newspaper, Hadisat, prints on a weekly basis at a printing center in the Osmangazi district in Bursa, which was the first capital of the Ottoman Empire. It is delivered to readers via a subscription system and has received requests for subscriptions from abroad, as well.
The newspaper is printed in Ottoman Turkish, known as Ottoman, which was used during the 13th to 20th centuries in geographies where the Ottoman Empire existed.
The proprietor and editor-in-chief of the newspaper, Hasan Parlak spoke to Anadolu Agency (AA) about the paper. Parlak said that the Ottoman language is the history, language and custom of the people who lived in these lands. People used this alphabet for more than a thousand years and their past is written in this alphabet.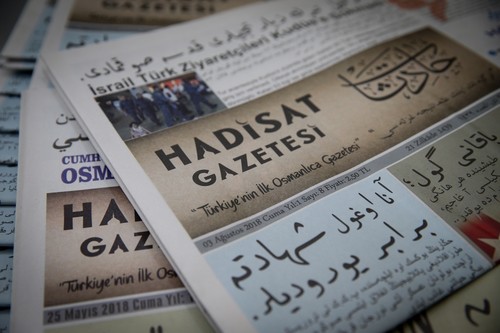 The newspaper has received requests for delivery from abroad along with local readers.
Parlak said that the removal of Ottoman from daily life has separated Turkish people from their history. "[Now] Ottoman letters have been allowed thanks to the efforts of our government and our president for the last two and a half years. Turkey should reunite with its past and guide its position towards the future," he said.
In this regard he thought that a newspaper would be the best way to offer Ottoman to the public and hence began printing Hadisat in May of this year.
Abdulhamid's grandson Orhan Osmanoğlu writes a column
The newspaper printed in Ottoman and Turkish consists of 12 pages and has varied content. "Our newspaper contains current, political, ideal, scientific and social subjects. It, unlike others, also contains culture and arts, history and science. There are also columns. Albulhamid's grandson, Orhan Osmanoğlu has been supporting us since our foundation and I would like to thank him. Bursa Provincial Mufti has been preparing a catechism page. They write and send the translation here," explains Parlak.
Newspaper with reading key
Parlak stated that they have included a reading key for the newspaper readers. "There are some letters that are not found in Ottoman. Such as p, ç and j. Our reading key offers all letters. We provide information on 'how certain letters are read,' 'how words are read,' and 'how do they unite, ' on a quarter page. People who know how to read the Quran can analyze the reading key and read Ottoman in half an hour or an hour.
Explaining that the newspapers reaches readers through a subscription system, Parlak said: "Our weekly newspaper is delivered to our president, our ministers, all the members of the Parliament without discrimination, even to general presidents of political parties, leaders of nongovernmental organizations and mayors and governors of 81 cities via post. We deliver the newspaper to all our subscribers. There are subscribers outside of Bursa. There are subscriptions in Istanbul, Ankara, Konya, Manisa and Trabzon. They called from Poland in the second week we printed the newspaper. We were very glad. Poland used to be our land 150 to 200 years ago. It was under the rule of Ottoman Empire. There were a few requests from Germany and the United Kingdom too. We cannot send them immediately but we deliver via post," said Parlak.
A century has passed
Parlak said that there it has been more than 100 years since a newspaper was printed in the Ottoman and Latin alphabets and that it has been 90 years since Ottoman was banned. "We are printing a newspaper in Ottoman in the Ottoman lands of Turkey 90 years later. I cannot thank God as much as I want to. Our aim is to offer Ottoman to new generations and our citizens who want to follow Ottoman and at the same time read today's contemporary Turkish."
Since there are Arabic and Persian words in Ottoman language, Parlak said those who are not familiar may have hard a time pronouncing words. "Especially students of history, language, religion and art suffer from this issue. Today, since Ottoman is an elective course in high schools, our friends who are interested will get to learn Arabic and Persian words and will find a fellow traveler through our newspaper and hopefully improve their speaking."