It has been almost a year since first lady Emine Erdoğan launched a zero waste campaign to promote recycling. Now recycling is more commonplace than ever before - from the Presidential Complex to restaurants.
Under the auspices of Erdoğan, the Environment and Urbanization Ministry's "Zero Waste Project" involves "waste hunters" that work day and night to create a clean world and economic added-value.
The project aims to maximize recycling and includes more than 600 licensed collectors in Turkey as well as more than 40 recycling facilities.
Once the waste is converted into raw materials, it is returned to the market, decreasing the number of petroleum-derived products in landfills. Recycled granules made from plastic waste are exported to many countries, especially China and Germany.
The number of recycling facilities, working particularly with plastic, glass, metal and paper, are also increasing every day - in turn creating more jobs.
The story of recycling plastic bottles
Garbage is collected throughout the city and brought to sorting facilities, where different materials, mainly glass, paper, plastic and metal are separated. After being sorted, it is pressed into bales and stacked in a storage area for transportation to a recycling facility.
Plastic waste is sorted according to type and broken down in shredders. The shredded plastic is to as "burrs." The burrs are then placed in the freezer, followed by a helix machine, which turns the plastic into lentil-size granules. These granules are packed in plastic bags and distributed to companies for reuse. Numerous products including agricultural irrigation pipes, packaging, and home and garden goods can be made from this repurposed material.
The recycling method is similar to glass, metal and paper products, as well.
13 million trees saved so far in 2018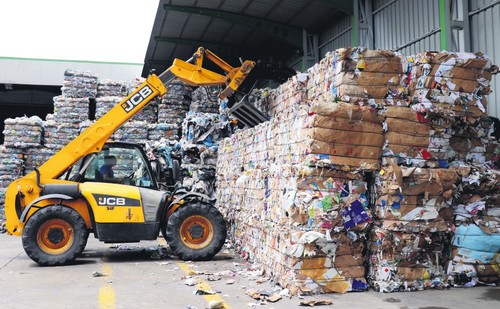 Tons of garbage are recycled every day at the recycling facility in Diyarbakır.
Diyarbakır's Environment and Urbanization provincial director, Ufuk Nurullah Bilgin, told Anadolu Agency (AA) that they have adopted the slogan "One man's trash is another man's treasure." Bilgin said the green area per capita is expected to increase to 15 square meters as the project expands.
He also stressed that plastic bags are simply thrown away and end up in landfills, but once stores start charging for each bag on Jan. 1, 2019, this wasteful habit should decline. He suggested using cloth and paper bags, which will be cheaper for consumers and safer for the environment.
The director noted the estimated economic value of recycling is 600 billion euros worldwide. "Around 10 percent of this amount is 60 billion euros and 1 percent is 6 billion euros. When we consider the benefits, it is easy to see how important recycling is for the economy and employment. In this regard, we saved 24.6 million trees in 2017 and 13 million in the first half of 2018. When the project spreads in the country, its economic value will be TL 12.5 billion [$1.87 billion] at least, and 100,000 people will be employed. The green area will increase to 15 square meters per capita."
Mehmet Şirin Şimşek, who runs a recycling business in Diyarbakır, said they help preserve nature with this project.
Remarking they turn the products they collect into raw material, Şimşek continued: "We feel the project is important and really beneficial. If plastic and petrol products are not recycled, you will cover the whole world with plastic bags and products in a year. Then, there will be no solution."
He added that they process 150 tons to 200 tons of collected plastic products, turn them into granules and create packaging products.
Almost everything can be recycled
Nüjiyan İkincisoy, an environmental engineer at a waste facility, said people have turned the world into a huge garbage dump.
He said that garbage, plastic bottles and plastic bags are destructive. "We live in a technological era when almost every piece of garbage can be used again thanks to the recycling sector. We should not forget that these materials can be reused."
İkincisoy added that those who work in this sector, which is important for both nature and the economy, are often referred to as "waste hunters."
Turkey's road to 'zero waste'
In the recent years, Turkey started to prioritize waste management over concerns about rising environmental damage. Municipalities responsible for garbage collecting have upgraded their waste management systems. The country is also trying to curb food waste, particularly in the form of 12 million loaves of bread every day.
The goal of the project is to apply zero waste practices everywhere, in the public and private sectors, from hospitals to shopping malls, by 2023, the centenary of the foundation of the Republic of Turkey.