Celebrities just can't seem to get enough of mouthwatering Turkish cuisine and U.S. actress Kristen Stewart is one of them.
Stewart, who is currently in Istanbul for the filming of the Charlie's Angels reboot, was seen with her friends enjoying the delicacies of Turkey's Black Sea region in a restaurant in Istanbul's famed Beyoğlu district, which is also home to the trendy neighborhoods of Galata and Karaköy.
Parts of the filming in Istanbul's Spice Bazaar and the Veliefendi Hippodrome were completed this week.
The famous actress and her friends chose to eat at the Sisore Pera Karadeniz Pide Evi in Asmalımescit neighborhood after having a few drinks at Corridor Pera bar.
The group reportedly ordered 10 traditional pides, three plates of Turkish white bean stew, which is usually served with rice and two plates of stuffed black cabbage rolls.
On their way out, her bodyguard was seen covering Stewart's face with his hand to stop the paparazzi.
From everything hamsi — hamsi pilaf (anchovy rice), hamsi buğulama (poached anchovies) and hamsi tava with cornbread (fried anchovies), to Trabzon pita bread, kuymak (melted cheese and cornmeal) and much more, the Black Sea region attracts many visitors thanks to its tasty cuisine.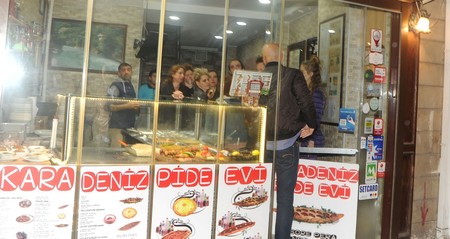 Stewart also visited Turkish butcher and chef Nusret Gökçe aka 'Salt Bae' on Monday.
The 28-year-old actress is best known for her role in the Twilight Saga film series.
Stewart, along with rising British actresses Naomi Scott and Ella Balinska, will play the lead roles in the latest movie reboot of the 1970s crime caper.
The film will be directed by Elizabeth Banks, who also directed "Pitch Perfect 2," and she will also play the role of the avuncular Bosley.
"Charlie's Angels" first appeared on U.S. television in 1976, starring Farrah Fawcett, Kate Jackson, and Jaclyn Smith as sexy private detectives sent on missions by their unseen boss, Charlie Townsend.
The series spawned a 2000 movie adaptation starring Lucy Liu, Cameron Diaz and Drew Barrymore, who returned for a 2003 sequel "Charlie's Angels: Full Throttle."
The new movie is expected to be released in September 2019.