Ziad Abu Ein, a Palestinian minister, died shortly after being hit by Israeli soldiers during a protest on Wednesday. Rushed in an ambulance from Turmusiya, he died on the way to Ramallah, a nearby city. Ein, who was in his early 50s, was the official in charge of the settlements file at the Palestine Liberation Organization (PLO).
The cause of death was suffocation from teargas, the Ramallah medical complex told Anadolu Agency. Witnesses say they were on their way to plant trees and protest near an Israeli settlement when they were stopped at an improvised checkpoint.
A Reuters photographer said that the minister was hit and shoved by soldiers. Another witness said Ein was hit in the chest by a tear gas container that was fired by one of the Israeli soldiers. The Associated Press reported that Ein was beaten by an Israeli soldier. A Palestinian health official told AP an autopsy would be performed to determine the cause of death.
Footage aired on Gulf-based satellite news channel Al-Hadath shows a pale-faced Ein crumple to the ground after the clash and holding his chest. Dozens of other demonstrators suffered temporary asphyxiation after inhaling excessive amounts of tear gas fired by Israeli army troops.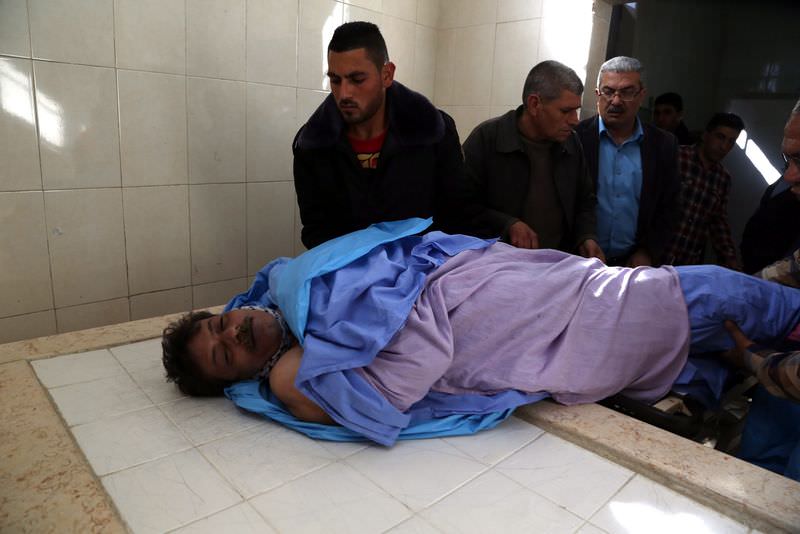 Ein headed a Palestinian Authority department dealing with Israeli settlements and the Israeli separation barrier and had the rank of cabinet minister. He had previously served as deputy minister for prisoner affairs.
Palestinian President Mahmoud Abbas, in a statement, called Ein's death "a barbaric act that [he] cannot be silent about or accept." Announcing three days of national mourning, Abbas said he would take "necessary steps" after an investigation. The Israeli army was looking into the incident, a spokeswoman said, but did not immediately provide further information.
After Israel's attacks on the Gaza Strip last summer, tensions have been on the rise. The Israeli attacks killed more than 2,000 Gazans and destroyed thousands of homes. The struggle for access to Jerusalem's Temple Mount complex, a site that is considered holy to both Muslims and Jews, has caused Palestinians to protest for the past couple of weeks.
Israeli Prime Minister Benjamin Netanyahu has been steering to the right in pushing for Jewish settlements to the West Bank and East Jerusalem. Several members of his coalition government opposed his Jewish-nation state bill to define Israel as the state of the Jewish people and similar plans, leading to the firing of Finance Minister Yair Lapid and Justice Minister Tzipi Livni, pushing Israel into early parliamentary elections.
Netanyahu has been under heavy criticism from the cabinet and Israeli media due to his aggressive policies that have undermined U.S.-led peace talks. A recent poll conducted by Israeli Channel 10 showed that his popularity rating has dropped to 23 percent. The poll revealed a sharp fall from 37 percent last week.