Israeli Interior Minister Silvan Shalom's wife, Judy Shalom Nir-Mozes, tweeted on June 21 what she calls an 'inappropriate joke' about U.S. President Barack Obama from her Twitter account @JudyMozes.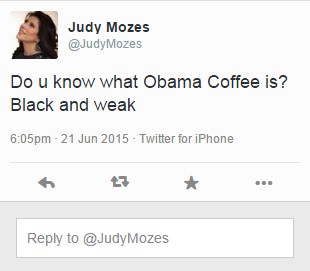 The tweet, which was later deleted and seen as highly offensive, caused an uproar on social media/. Social media users accused Shalom of racism with many responses. Shalom apologized in another tweet, saying: "I apologize, that was a stupid joke somebody told me."
Shalom has previously sent another message on Twitter to the U.S. president on his twitter account @POTUS : "well come [welcome], I hope u'll write from The hurt [heart] of Barack, and not from the head of Rrsedent [President] Obama. Kisses from Israel."
The tweet was also reportedly deleted, but saved beforehand by a blogger. Shalom had denied she had written it.