Mecca's Masjid al-Haram was full with around two million Muslims who performed Taraweeh prayer late on Monday, marking the 27th night of Ramadan.
SPA, the official Saudi news agency, said Muslims gathered from across Saudi Arabia and the world to pray Taraweeh, which is an extra special prayer performed during Ramadan.
The 27th night of Ramadan is believed to be Laylat al-Qadr, which according to Quran, is better than 1,000 months of worship. Laylat al-Qadr, variously rendered in English as the Night of Decree, is in Islamic belief the night when the first verses of the Quran were revealed to the Islamic prophet Muhammad. Muslims believe that on this night, the blessings and mercy of Allah is abundant, sins are forgiven, supplications are accepted, and that the annual decree is revealed to the angels who also descend to earth.
Masjid al-Haram contains the Kaaba and is the most sacred mosque for Muslims.
King Salman bin Abdulaziz of Saudi Arabia had recently launched five projects as a third expansion phase for Masjid al-Haram to increase its capacity.
Thousands of Palestinian Muslims have also on Monday converged on East Jerusalem's Al-Aqsa Mosque to mark Laylat al-Qadr.
Men over 50 years old, children under 12 and women over 30 were allowed by the Israeli authorities to enter occupied East Jerusalem without permits for the occasion.
Sheikh Azzam al-Khatib, director-general of Muslim Endowments and Al-Aqsa Affairs, told Anadolu Agency that-despite the Israeli restrictions-some 350,000 Palestinian worshipers had prayed at the iconic mosque for Laylat al-Qadr.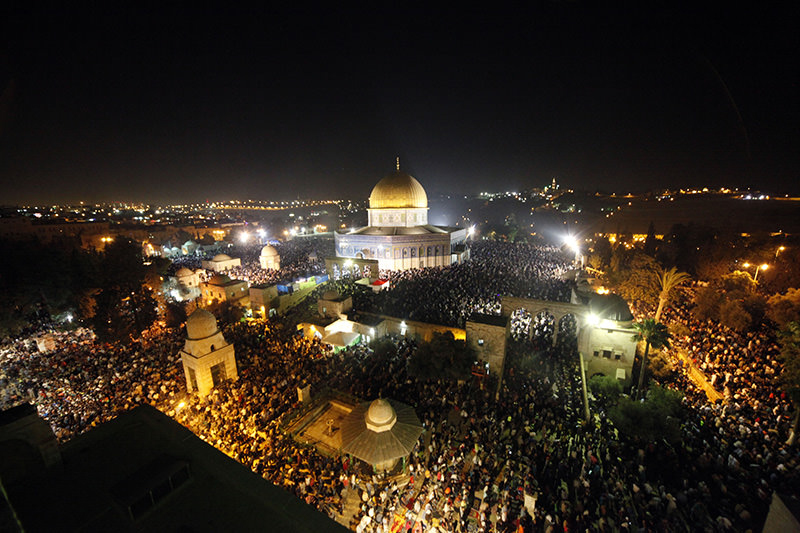 The Israeli authorities also allowed some 800 Palestinian Muslims from the blockaded Gaza Strip to mark the occasion at the Al-Aqsa Mosque.
For Muslims, East Jerusalem's Al-Aqsa Mosque represents the world's third holiest site. Jews, for their part, refer to the area as the "Temple Mount," claiming it was the site of two Jewish temples in ancient times.
Israel occupied East Jerusalem and the West Bank during the 1967 Middle East War. It later annexed the holy city in 1980, claiming it as the unified capital of the self-proclaimed Jewish state-a move never recognized by the international community.