Fuad Maraita wakes up at 3:30 a.m. His hometown of Salfit in the Israeli-occupied West Bank lies in darkness.
He drinks coffee, slings a bag with his lunch over his shoulder, gets on a minibus and starts the grueling journey to his job laying tiles at a construction site near Tel Aviv.
Maraita, 62, is among tens of thousands of Palestinians who make the trek to Israel every day. Fifty years after Israel captured the West Bank, the Gaza Strip and east Jerusalem, this army of laborers is one of the most visible signs of the occupation.
Israeli control has held back the Palestinian economy, making decent-paying jobs in the territories scarce. Stripped of choices, Palestinians work in Israel, where their average pay is the minimum wage— still more than double what they would earn at home. They build homes, fix cars and serve food.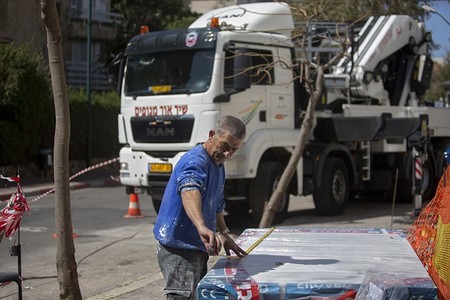 Laying tiles in Israel has become a Maraita family tradition, passed down from Maraita's late father to him, his four brothers, and one of his sons.
Salfit is just 30 miles from Tel Aviv, but Israeli travel restrictions keep him on the road for almost as much time each day as he spends working.
Maraita believes the occupation won't end anytime soon.
"They (the Israelis) are not going anywhere," he said.
_________
This is part of a series of stories marking the 50 years since Israel took over the West Bank, Gaza Strip and east Jerusalem in 1967.
________
Some 125,000 Palestinians now work in Israel and in Jewish settlements in the West Bank. At peak times, a third of the West Bank's workforce was employed in Israel, whose high-tech-driven economy is about 15 times larger than the Palestinian one.
This lopsided relationship will loom large if President Donald Trump restarts Israeli-Palestinian peace talks. The U.S. administration believes strengthening the Palestinian economy would support future talks, but Israelis and Palestinians have different views of what that means.
Palestinians say Israel must cut shackles now, rather than linking economic change to an elusive peace deal. They say it's the only way to grow a sluggish economy held back by Israeli restrictions, including on Palestinian development in large parts of the West Bank where Jewish settlements are allowed to flourish.
"Our economic problems can't wait," said senior Palestinian economist Mohammed Mustafa who discussed such demands with the Trump administration.
Israel has proposed improvements of the current system, such as trying to reduce bottlenecks at Israeli-run crossings that Palestinians say prevent them from trading competitively.
Michael Oren, the Israeli government official who raised such ideas in Washington, said fundamental change has to wait for peace talks.
In the meantime, Palestinians should keep working in Israel, he said. "If there is stability, there is less terror. If there is less terror, this gives us, the diplomats, more space to negotiate."
Shortly after 5 a.m., Maraita reaches a crossing through Israel's West Bank separation barrier. Hundreds of laborers make their way through a maze of rails, turnstiles and a metal detector. They place their bags on an airport-style X-ray conveyor belt and press ID cards on a scanner.
It's a Thursday, turnout is relatively light and Maraita gets through in 10 minutes. At the start of the work week, it can take much longer, he said.
At first, there were no barriers. With the outbreak of Palestinian unrest in the late 1980s, Israel began imposing security closures and a permit regime.
After a second Palestinian uprising in 2000, Israel built the barrier to channel Palestinian traffic into Israel through crossings to detect potential Palestinian attackers.
Palestinians say the barrier is also a land grab because for long stretches it runs in the West Bank, not on the pre-1967 frontier, slicing off about 10 percent of the land.
Palestinians from Gaza have been banned from work in Israel since the 2007 takeover of Gaza by the Hamas movement.
After emerging from the crossing, Maraita boards another bus, sitting behind his brother Ahed, 52.
Some Israelis are pleasant, others racist, said Ahed, a tiler. "You have to endure it," he said.
At 6 a.m., the bus arrives at a coffee shop in the Tel Aviv area. Maraita chats with other customers as he waits for his employer. One of the regulars, Israeli contractor Ariel Schneider, believes Palestinians don't need a state.
"We need to make sure they (Palestinians) have work and everything will be fine," he said.
At 6:15 a.m., Maraita's employer picks him up. By the time Maraita gets to his job site, he will have traveled three hours.
An interim economic agreement of the mid-1990s has turned bad, Palestinians say. Their economy contracted or stagnated as a result of conflict-related Israel closures.
In the West Bank, youth unemployment reached 40 percent, and the figure for all ages is 18 percent.
Palestinians say that if left to their own devices, they could create jobs and wean themselves off hundreds of millions of dollars a year in foreign aid. The Palestinian economy could grow by a third if they could access resources in so-called Area C, according to the World Bank.
Some in Israel's government seek to annex Area C, and the government has accelerated settlement construction there.
Oren said the fate of Area C has to be decided in negotiations. In the meantime, Palestinians need to make their economy more competitive through technological advances, he said.
Gaza, home to 2 million Palestinians, is even worse off. Gaza requires 400 megawatts of electricity per day and continues to suffer from a severe power crisis that has forced local authorities to adopt a rotation system, cutting power from some areas in order to supply electricity to other areas.
Israel provides 120 megawatts of electricity to the Gaza Strip, while Egypt provides 32 megawatts. Gaza's power plant provides only 60 megawatts, according to Palestinian Energy Authority figures.
The enforced border blockade has prevented most exports. Unemployment has reached 42 percent. Among the young it's 60 percent.
A Rand Corp. study said both sides would gain tens of billions of dollars from a peace deal. Even now, Israel's gains from the occupation, such as cheap labor, are outweighed by lost opportunities, such as exports to the Arab world, some economists said.
It is 3:30 p.m. Maraita's employer hands him his weekly pay through the window of a pickup truck. Israeli contractors pay on time, said Maraita, who earns four times the West Bank average.
He's back in Salfit more than two hours later.
The father of six hopes his 23 grandchildren will do better.
For now, he said, he feels compelled to keep working.
"We have to take care of our homes, our children," he said.