Three Palestinians were killed amid clashes with Israeli police in Jerusalem after Muslim Friday prayers were held in protest outside Jerusalem's Al-Aqsa Mosque due to Israel's blockade of Islam's third holiest site.
Palestinian health ministry confirmed that 18-year-old Muhammad Mahmoud Sharf from Silwan was killed by a shot in the head in Ras al-Amud, a neighborhood in the eastern part of the city.
Pictures circulating on social media showed a man in civilian clothing holding an automatic rifle, firing at protesters from a higher position.
The second reported death of the day occurred in the A-Tur (Mount of Olives) area of east Jerusalem, according to the Palestinian health officials. Makassed Hospital in East Jerusalem identified 20-year-old Mohammad Abu Ghannam as the victim.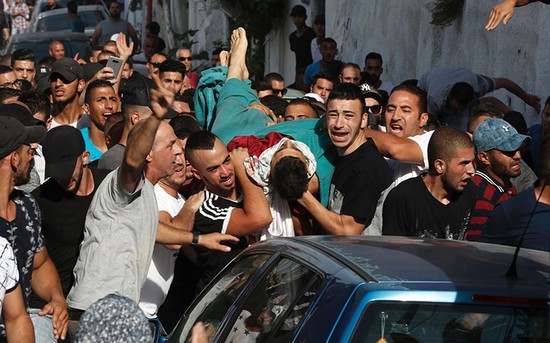 Palestinian men Ghannam's body during his funeral in the At-Tur area of east Jerusalem, on July 21, 2017. (AFP Photo)

A third Palestinian, who was identified as Mohammad Lafi, 17, was killed in clashes in Abu Dis in the occupied West Bank. The Palestinian health ministry said the victim was killed after he was shot in the heart by live bullets but provided no further details on the circumstances.
The Palestinian Red Crescent says 41 Palestinians were taken to hospitals or clinics with injuries from live fire, rubber bullets, and beatings. About 150 Palestinians were treated for tear gas inhalation.
Associated Press footage showed police throwing stun grenades to disperse protesters in Ras al-Amud. An officer could be seen kicking a man as he kneed on a mat.


Footage shows Israeli soldier kicking a Palestinian man praying on a mat during clashes in east Jerusalem https://t.co/rvM6pTW3gT pic.twitter.com/kXfHRWRWh3

— DAILY SABAH (@DailySabah) July 21, 2017
Police said Palestinians threw stones at officers.
Hundreds prayed at the shrine compound, sacred to both Muslims and Jews, police said. Friday prayers typically draw tens of thousands.
Israel installed metal detectors at gates to the site after Palestinian gunmen killed two policemen there last week.
Protests broke out on Sunday after the mosque's leadership spoke out against the metal detectors, which were installed following a gun attack last week that left three Palestinians and two Israeli police officers dead.
The measures led to a wave of anger among Palestinians, who called for the immediate removal of the detectors. However, Israel has refused to back down, saying the detectors matched security measures at other holy sites around the world.
Meanwhile, Turkey expressed deep concern over the Israeli restrictions and violence.
"We are deeply anxious and concerned," Turkish Foreign Ministry said in a written statement.
"Respecting the holiness and historical status of Al-Aqsa Mosque compound, which is situated in Eastern Jerusalem where Israel has occupied since 1967, is a humanitarian and judicial obligation," the statement said.
Turkey urged Israel to "immediately" abolish all restrictions, including the metal detectors at the entrance of Al- Aqsa mosque compound and return to the status quo, and pay attention to international community's calls.
Israel occupied East Jerusalem during the 1967 Middle East War. It later annexed the city in 1980, claiming all of Jerusalem as the Jewish state's "eternal" capital -- a move never recognized by the international community.