Since Ibrahim Abu Thurayeh lost his legs in an Israeli attack a decade ago, he and his wheelchair have been a regular feature at protests along Gaza's border with Israel.
On Friday, he became one of four Palestinians to be killed in a day of protest against a U.S. decision to move its embassy from Tel Aviv to Jerusalem.
Pictures of Abu Thurayeh at protests along the border were being circulated widely among Palestinians on Friday after it was confirmed he had been shot dead during clashes.
The unmarried 29-year-old had lived at home with his parents and had been without regular work since the 2008 incident in which he lost his legs.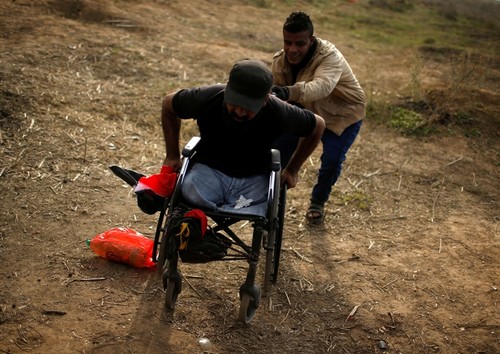 That happened during an Israeli incursion east of the Al-Bureij refugee camp in central Gaza in April 2008.
"He was injured in 2008 by an Israeli helicopter that targeted him after he brought down the Israeli flag and raised the Palestinian flag along the border," his brother Samir told French Press Agency (AFP) after his death was confirmed on Friday.
"It did not stop him from demonstrating for Jerusalem. He went alone every day to the border."
AFP photographers have seen him at multiple demonstrations in recent years.
Tens of thousands of Palestinians protested in Gaza on Friday over U.S. President Donald Trump's controversial decision to move the American embassy to Jerusalem and recognize the city as Israel's capital.
Palestinians consider at least part of the city, which is under full Israeli control, as the capital of their future state and have been infuriated by the decision.
In video footage recorded early on Friday, Abu Thurayeh could be seen carrying the Palestinian flag and waving the victory sign at Israeli soldiers across the border.
"I want to go there," he says, referring to the other side of the border, as a number of young men surrounding him wave Palestinian flags and others throw stones towards the troops.
'Extremely violent riots'
It is incredibly difficult for Palestinians from Gaza to get Israeli permits to visit Jerusalem.
"This land is our land, we will not give up. America has to withdraw its decision," Abu Thurayeh said in another video posted on social media.
A few hours before his death, despite having no legs he climbed an electricity pole to raise the Palestinian flag, eyewitnesses and journalists present said.
What happened after that remains unclear.
Several thousand Palestinians along the Gaza border threw stones at Israeli soldiers, with clashes lasting for several hours.
Two men were killed, including Abu Thurayeh.
The Palestinian health ministry in Gaza claimed he was shot in the head by a sniper.
The Israeli army declined to comment specifically on the incident on Friday evening, saying only that there were "extremely violent riots" throughout the day.
"Soldiers fired selectively towards main instigators," an army spokeswoman said.
Israel has maintained a blockade of Gaza for a decade. Critics say it amounts to collective punishment for the strip's two million residents, who suffer from electricity shortages and pollution.