Nine people were killed overnight in unrest related to protests in the Isfahan region of central Iran, the state broadcaster reported on Tuesday.
Six protesters were killed in the town of Qahderijan, one member of the Revolutionary Guards was slain in Kahriz Sang and one passer-by in Khomeinishahr, state television said, as well as one policeman killed with a hunting rifle in nearby Najafabad whose death had already been reported.
The demonstrations, the largest to strike Iran since its disputed 2009 presidential election, have seen six days of unrest across the country and a death toll of at least 20.
The protests began Thursday in Mashhad over Iran's weak economy and a jump in food prices and have expanded to several cities, with some protesters chanting against the government and the supreme leader, Ayatollah Ali Khamenei. Hundreds of people have been arrested.
Meanwhile on Tuesday, Supreme Leader Ayatollah Ali Khamenei said that Iran's enemies have stirred unrest in the country, using "cash, arms and intelligence agents."
State TV reported that six rioters were killed during an attack on a police station in the town of Qahdarijan. It reported that clashes were sparked by rioters who tried to steal guns from the police station.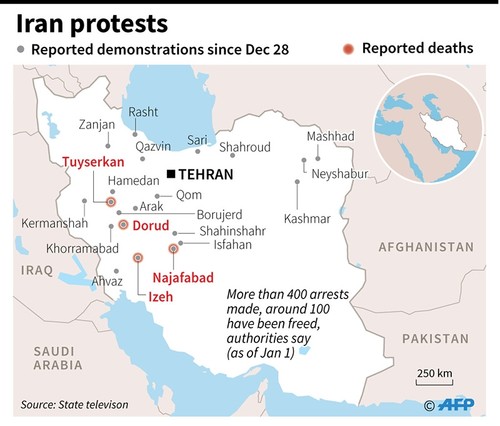 State TV also said an 11-year-old boy and a 20-year-old man were killed in the town of Khomeinishahr, while a member of Iran's paramilitary Revolutionary Guard was killed in the town of Najafabad. It says all three were shot by hunting rifles, which are common in the Iranian countryside.
The towns are all in Iran's central Isfahan province, some 350 kilometers (215 miles) south of Tehran.
It wasn't clear if the Revolutionary Guard member was the same fatality report late Monday night by Iran's semi-official Mehr news agency. Mehr had said an assailant using a hunting rifle killed a policeman and wounded three others in Najafabad.
Monday marked the first night to see a fatality among Iran's security forces.​
Earlier reports had already said a policeman was killed and three others injured in Najafabad after being shot with a hunting rifle.
That brings the estimated death toll to 21 in unrest linked to the protests, that began last Thursday in second city Mashhad and quickly spread across the country.
President Hassan Rouhani has acknowledged the public's anger over Iran's flagging economy, though he and others warned that the government wouldn't hesitate to crack down on those it considers lawbreakers.
That was echoed Monday by judiciary chief Ayatollah Sadegh Larijani, who urged authorities to confront rioters, state TV reported.
"I demand all prosecutors across the country to get involved and the approach should be strong," he said.