Al-Qaida-linked militants in Syria downed a Russian fighter jet on Saturday and killed its pilot after he ejected from the plane and landed on the ground in the embattled northwestern province of Idlib. The pilot resisted being captured and fired at the militants who then shot and killed him, according to one of the militants and Syrian monitors.
Al-Qaida-affiliated coalition of Hayat Tahrir al-Sham claimed responsibility for shooting down the Russian Su-25 warplane with a shoulder-launched anti-aircraft missile.
A local opposition commander said that the pilot was captured about 5 kilometers from the site of the downing.​
VIDEO — Last moments of Russian pilot caught on camera after plane was downed by al-Qaeda-linked militants in Syria's northwest Idlib
https://t.co/O7ryj2LuYS pic.twitter.com/ieSXeWdmRJ

— DAILY SABAH (@DailySabah) February 4, 2018
A Syrian monitoring group and a Syrian militant said that a Russian pilot who ejected from his fighter jet after it was shot down in northwestern Syria was killed after landing alive on the ground.
The Britain-based Syrian Observatory for Human Rights confirmed that the Russian pilot is dead but had no immediate further details.
Meanwhile, a Syrian militant in the area told The Associated Press that the Russian pilot was shot and killed when he resisted capture by opening fire from his pistol on the militants who tried to capture him alive.
UPDATE — Russian plane shot down by Syrian opposition fighters over Syria's northwest Idlib province, badly injured pilot taken captive https://t.co/O7ryj2LuYS pic.twitter.com/zGGfZBAyHw

— DAILY SABAH (@DailySabah) February 3, 2018
The Russian army confirmed the death of the pilot after the plane downed in Syria, the TASS news agency quoted Russia's Defense Ministry as saying.
In recent weeks, Assad regime forces backed by Russian air power have intensified attacks on Idlib.
The Syrian army last month retook control of the strategic airbase of Abu Dhuhur from insurgents in Idlib.
Russia is a major ally of Bashar al-Assad whose regime forces have made territorial gains against moderate opposition in recent months.
In recent weeks, regime forces and their allies pushed into Idlib, an opposition stronghold, inching closer to a key highway that connects Syria's two largest cities, Damascus and Aleppo.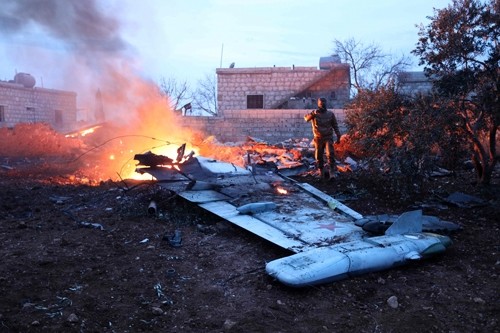 The U.N. says more than 270,000 have been displaced in Idlib because of the regime onslaught since Dec. 15.
The violence in Idlib came as fighting raged between Turkish troops and Turkey-backed opposition gunmen with People's Protection Units (YPG) terrorists in the northern Syrian enclave of Afrin.
On Jan. 20, Turkey launched Operation Olive Branch along with the FSA to clear PKK/YPG and Daesh terrorists from Afrin, northwestern Syria.
According to the Turkish General Staff, the operation aims to establish security and stability along Turkey's borders and the region as well as to protect Syrians from terrorist oppression and cruelty.