Several major Israeli websites displayed pro-Palestinian messages on their homepage Tuesday after they fell victim to an apparent cyberattack.
Websites of Israeli hospitals, local authorities, Israel Opera, Israel Teachers' Union and the Israeli Defense Forces Widow & Orphans organization displayed a photo of recent clashes between Palestinians and the Israeli security forces at the Gaza border under the headline "Jerusalem is the capital of Palestine."
The image also read "Th3Falcon Was Here," and either "We will not forget our martyrs" written in Arabic or "Al Aqsa is a red line."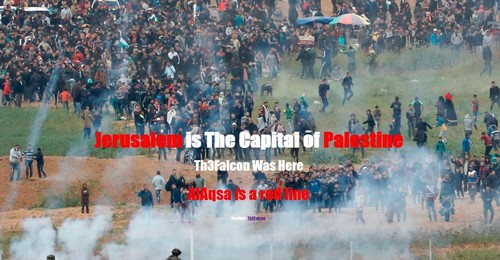 Israel is considered one of the world's top cyber superpowers.
According to Israeli Prime Minister Benjamin Netanyahu, the country receives roughly one fifth of the world's global private investment in cybersecurity.
The hack comes after a 25-year-old Palestinian was shot dead by Israeli forces on the Gaza border Tuesday.
Last week, Israeli troops killed at least 17 Palestinians on Friday when a protest by tens of thousands of people resulted in clashes.