A veteran Kurdish politician assumed office on Wednesday as Iraq's new president after tapping an independent Shiite politician for the post of prime minister, ending nearly five months of political deadlock.
Barham Salih, 58, who previously served as Iraq's planning minister and the prime minister of the self-ruled Kurdish region, was elected president by parliament and sworn in on Tuesday. He then tapped Adel Abdul-Mahdi, 76, an independent Shiite politician and former vice president, to form the next government.
Under an unofficial agreement dating back to the 2003 U.S.-led invasion, Iraq's presidency — a largely ceremonial role — is held by a Kurd, while the prime minister is Shiite and the parliament speaker is Sunni. Both Salih and Abdul-Mahdi are longstanding members of the political class that has dominated Iraqi politics since then.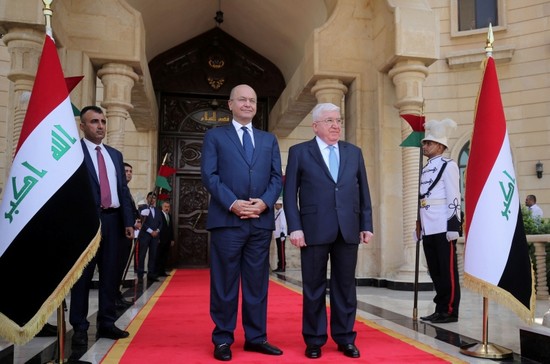 Newly elected Iraqi President Kurdish Barham Saleh (L) stands with his predecessor Fuad Masum during the handing over ceremony in Baghdad on Aug. 3, 2018. (AFP Photo)

On Wednesday, State TV broadcast a formal handover ceremony at the presidential palace in Baghdad's Green Zone, where Salih was saluted by an honor guard and received by former President Fuad Masum.
"This experience of peaceful transfer of power in such a transparent democratic way is an important step in consolidating the traditions of democracy," Salih said in an official ceremony held for his inauguration.
For his part, Masum wished the new president "success in serving Iraq and all Iraqis with a view to strengthening the democratic path of the country."
Salih had previously served as the prime minister of the Kurdish Regional Government (KRG) between 2009 till 2011. He was also the deputy prime minister of Iraq under Ayad Allawi, who became prime minister after the fall of Saddam Hussein. He was born in 1960 in Sulaymaniyah, northern Iraq. He graduated from Cardiff University's Architecture Department in 1983. He also got a master's degree in engineering from Liverpool University.
Salih founded Sulaymaniyah American University and still is chairman of the board of trustees. He was also the PUK representative in England in the 80s.
Abdul-Mahdi emerged as a compromise candidate after two Shiite-led blocs each claimed to have majority support in parliament. He had strong backing from Shiite cleric Muqtada al-Sadr, whose followers won the most seats in the May elections and who formed a bloc with the current prime minister, Haider al-Abadi.
The other bloc, which is dominated by politicians and militia leaders close to Iran, initially rejected Abdul-Mahdi but then agreed to support him after Sunni and Kurdish parties rallied to his side, according to a Shiite politician who took part in the discussions. He spoke on condition of anonymity because he was not authorized to brief media.
The politician said Grand Ayatollah Ali al-Sistani, Iraq's top Shiite cleric, had made it clear through mediators that the job of prime minister should not go to someone who had held the post before and had urged consensus.
"The opinion yesterday was to have Abdul-Mahdi tasked quickly in order not to delay the process any further," the politician said.
Abdul-Mahdi, an economist by training who comes from a prominent Shiite tribe based in southern Iraq, spent several years in exile in France, where he worked for think tanks and edited magazines in French and Arabic.
The son of a minister of during Iraq's monarchy, which met a bloody end in 1958, Abdel Mahdi joined the Baath party, which brought Saddam Hussein to power in the late 1970s.
He joined Iraq's Community Party in the 1970s, but later switched to the Supreme Council for the Islamic Revolution in Iraq, an exiled opposition group established in neighboring Iran. He remained with SCIRI, which emerged as a powerful religious party after the 2003 U.S.-led invasion, until the party split last year, when he became an independent.
A member of the interim authorities set up by the U.S. military command who briefly served as finance minister, he became Iraqi vice president after the country's first multiparty elections in 2005.
While he was vice president, he was lightly wounded in 2007 when a bomb exploded inside the public works ministry.
In 2014, he was appointed oil minister under Haider al-Abadi, the man he is set to succeed as premier. He excelled in the role, deftly negotiating with Kurds over oil before resigning after two years.
A francophone who attended university in France, he also has an excellent command of English.
Abdul-Mahdi will have to deal with many figures whose paths he has already crossed as he seeks to hammer out a new government.
Among them is Hadi al-Ameri, the head of the Conquest Alliance close to Iran, former prime minister Nuri al-Maliki and populist Shiite cleric Moqtadr Sadr.
Responding to a message of congratulations from Abadi, he showed he was wary of the task ahead, referring to it as "a heavy responsibility".
He has 30 days to submit his cabinet to parliament for approval.
Abdul-Mahdi will be able to call on years of experience as a regular on Iraq's diplomatic scene for the balancing acts he is expected to perform.
He has the blessing of both Iran and the United States, a required consensus in the country caught between its two major allies who are foes.
He also has good relations with many Kurdish leaders, a major advantage in normalizing ties with the autonomous region of Kurdistan whose people voted overwhelmingly to split from Iraq last year.