Turkey's Jewish community celebrated Hanukkah on Sunday, which marked a milestone in the history of the 92-year-old republic. For the first time in contemporary history, Turkey's Jewry openly celebrated the holiday in Istanbul's Ortaköy square which is located near the Bosphorus and accommodates the famous Büyük Mecidiye (Ortaköy) Mosque.
The celebration was organized by the Beşiktaş Municipality. Before lighting the Hanukkah candles with the Chief Rabbi İzak Haleva, Beşiktaş Mayor Murat Hazinedar gave a speech to the attendees and members of the Jewish community and wished that "the Hanukkah candles enlighten the whole world."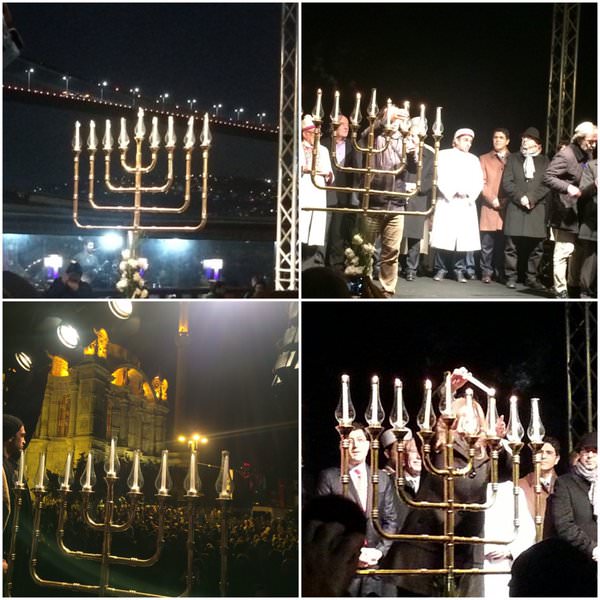 Photo collage by Ivo Molinas, the editor-in-chief of Şalom weekly

In his speech during the celebration, the head of Turkey's Jewish Community Ishak Ibrahimzadeh gave a speech in which he emphasized the importance of unity as a nation and offered "heartfelt thanks" to the Turkish state, the Ministry of Foreign Affairs, officials, citizens and "dear Turkey as a whole."
The Jewish community has been considered a cultural richness in Turkey since they inhabited the country hundreds of years ago. By the end of the fifteenth century, scores of Safarad Jews took refuge in the Ottoman Empire, and since then they have been living peacefully alongside many other religious or ethnic groups in the country.
Renovated over a four-year period and funded by the government, the historic Kal Kadoş Ha Gadol Synagogue in the western Edirne province was reopened in March. Nowadays, it serves both as a museum and a place of worship as part of Turkey's efforts to win back the hearts and minds of minorities that have suffered from suppressive policies in the past.
The Jewish community in Turkey also host iftar dinners in the holy month of Ramadan for hundreds of Muslims.
Turkey's Jewry usually state that they do not suffer from any kind of segregation or discrimination in the country. The community rejects allegations in news sources or dailies that the Turkish state promotes anti-Semitism in the country with "many Jews deciding to go to Spain where a law of return is presently being legislated."
In a statement to Daily Sabah, Turkey's Jewish community refuted the accusation of pressure from the Turkish state on their community and said: "Pressure from the state is out of the question."