Turkey's Orthodox community on Sunday marked the baptism of Jesus Christ with a special mass held at Fener Greek Orthodox Patriarchate, followed by men diving into Istanbul's cold waters to retrieve a cross thrown by Patriarch Bartholomew I.
After a nearly five-hour-long mass, Bartholomew I led worshipers in the Epiphany, throwing a blessed wooden cross into the Golden Horn inlet.
Michalis Voznakidis from Greece took the cross and the men kissed it before coming ashore. He said, "We are here for everyone, for our religion."
The ceremony took place after Bartholomew granted independence to the Orthodox Church of Ukraine, in a historic move that has angered Russia.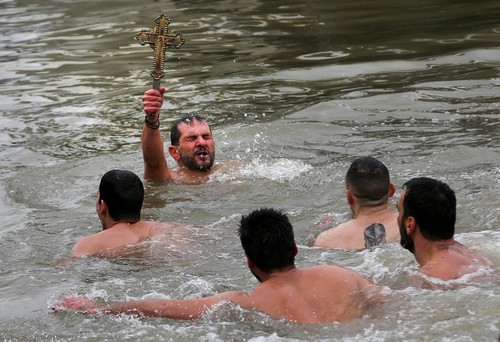 Ukrainian President Petro Poroshenko and Metropolitan Epiphanius I of the new church joined the Epiphany in Istanbul.
Istanbul, where a sizeable Christian community lives, is at the heart of celebrations in Turkey although similar cross-throwing ceremonies are held in other cities as well, including Izmir in the west and Gökçeada, an Aegean Turkish island that is home to a small but thriving Greek Orthodox community.
The Patriarchate in Istanbul is considered the heart of the Orthodox world and dates back to the Byzantine Empire, which collapsed when the Ottomans conquered the city in 1453.
Due to a difference in calendars, Jan. 6 marks Christmas Eve for many Orthodox churches and Christmas is celebrated on Jan. 7 rather than Dec. 25.
The majority of Orthodox churches worldwide uses the Julian calendar created under the reign of Julius Caesar in 45 BC and have not adopted the Gregorian calendar, proposed by Latin Pope Gregory of Rome in 1582. The Julian calendar runs 13 days behind the Gregorian.