Organized for the 18th time by the Istanbul Foundation for Culture and Arts (İKSV), the Istanbul Jazz Festival will run from June 27 until July 15. As part of the 22nd Istanbul Jazz Festival, over 250 international and national artists including Joan Baez, Jools Holland, Marcus Miller, Melody Gardot, Tigran Hamasyan, Roberto Fonseca, Fatumata Diawara, Tord Gustavsen, Masha Vahdat, The Bad Plus, Joshua Redman, Chris Potter, Dave Holland, Stanley Jordan and Emin Fındıkoğlu will give more than 35 concerts at more than 15 venues.
Michael Kiwanuka, Hiatus Kaiyote and Theo Croker
London-based singer and songwriter Michael Kiwanuka, one of the shining stars of soul and folk music, will perform for Istanbulites for the first time on July 15, at the closing concert of the festival. Before Kiwanuka's concert, Theo Croker whose album "AfroPhysicist" was singled out among the best jazz albums of the year, and Australian neo-soul band Hiatus Kaiyote will perform respectively.
Young musician Kiwanuka released his debut album "Home Again" in 2012. The album, which was nominated for a Mercury Music Award the same year, received positive comments from music critics with its effective and emotional sound. The artist, who won the BBC's Sound of 2012 Awards, joined the tours of successful musicians such as Adele, Stevie Wonder and Alabama Shakes and made a name for himself with his performance with Mumford & Sons. He continued to draw attention to himself with his collaboration with the soloist Dan Auerbach of the Black Keys for the single titled "I'm Getting Ready" in 2012 as well as the song "You've Got Nothing to Lose," which he recorded with Jack White upon his invitation to his studio in Nashville, and his cover of Townes Van Zandt's song "Waiting Round To Die." Inspired by musicians such as Jimi Hendrix, Bill Withers, Otis Redding, Bob Dylan and Joni Mitchell, Kiwanuka is known for his incredible voice and fantastic lyrics. Born in 1987, the artist is frequently compared with Van Morrison, the Temptations and Bill Withers.
Grammy Awards nominee Hiatus Kaiyote, who will also perform at the event, is composed of Nai Palm, Paul Bender, Perrin Moss and Simon Mavin. The band released their debut studio album "Tawk Tomahawk" in 2012 and they will release their second album "Choose Your Weapon" within this month. Florida-born Theo Croker graduated from Oberlin Conservatory of Music. Inspired by contemporary classical music, hip-hop and rap as well as classical jazz, Croker launched his latest album "AfroPhysicist" with producer Dee Dee Bridgewater in 2014. The album, which features musicians such as Roy Hargrove and David Gilmore as guest artists, was recognized among the best jazz albums of 2014.
The Asteroids Galaxy Tour at 'Northern Lights'


The Asteroids Galaxy Tour has been announced as the newest addition to the line-up of Northern Lights that will take place at KüçükÇiftlik Park on July 11 at 7:00 p.m. The band made its name in 2007 when they performed as the opening act of Amy Winehouse's Copenhagen concert and broadened their fan base after they accompanied Katy Perry on stage in the summer of 2009. The band, which has undertaken the task of discovering the different levels of music, enabled their fans to experience a new musical adventure with their latest album "Bring Us Together" offering them songs with the theme of "party on the moon." The Asteroids Galaxy Tour invites music lovers to a futuristic dance with their funk, disco and trip-hop songs during their first concert in Istanbul. Comprised of vocalist Mette Lindberg, producer Lars Iversen, guitarist Mikkel Balster Dorig, keyboard player Simon Littauer and drummer Rasmus Littauer, the Denmark-based The Asteroids Galaxy Tour is one of the surprise bands of the Northern Lights event.
Trumpeter Nils Petter Molver, one of the most important musicians in Norway's electro-jazz circles, and the duo Sly & Robbie, composed of Jamaica's groove masters Grammy-winning drummer Sly Dunbar and bass player Robbie Shakespeare will share the stage for the closing act of the event. Well-known Norwegian guitarist Eivind Aarset, who breathed fresh air into Norway's jazz music, and Vladislav Delay, who is one of the world's foremost electronic musicians, will accompany these veteran musicians. Musicians will take the audience through a delightful journey with different genres from jazz to dub, electronic music and world music during the event that is designed exclusively for the summer of 2015. The event will be hosted by Istanbul-based band Korhan Futacı and Kara Orchestra, who are known for their style that blends alternative jazz and rock, and they will perform as the opening act of the organization.
Norwegian sax player Harald Lassen
Within the program of the European Jazz Club concert series, Norwegian sax player Harald Lassen has been announced as the guest artist of the Ediz Hafızoğlu Nazdrave Project. Known as the sax player of bands like Pixel and Mopti, Lassen is one of the leading names in Norway's young jazz world. The productive musicians will accompany Hafızoğlu during the concert, promising to present an unusual concert experience. Lassen will take the stage on June 3 at 10:30 p.m.
Young Jazz Series
For the last 12 years, the "Young Jazz" series encourages young jazz musicians under 30, who have not yet taken on a professional career, to form a musical band and participate in the Istanbul Jazz Festival. Having hosted 60 young bands so far, the festival held a public concert at Salon İKSV on May 10 to choose this year's participants. Following the assessment concert, "Can Koçlar Quartet," "Eren Akgün Septet," "the Cold Vibes," "the Roots of Jazz" and "Vocca Acapella" have offered the opportunity to perform on June 4 within the program of "Parklarda Caz" (Jazz at Parks). The program will take place on stages at Fenerbahçe Park and Fenerbahçe Khalkedon from 5:00 p.m. During the free concert series, young jazz musicians will meet internationally acclaimed jazz bands like "the Soul Rebels Brass Band" and "Gettysburg College Jazz Ensemble."
The Istanbul Jazz Festival will celebrate the 100th birthday of legendary singer Frank Sinatra with a special concert. Unique music projects featuring a fine selection of songs from Sinatra and his muse Billie Holiday awaits festival goers. The concert, which will start at 9:30 pm on July 14 at the German Embassy Tarabya Summer Residence, will take place under the musical directorship of famous jazz drummer and two-time Grammy winner Terri Lyne Carrington.
Sinatra and Lady Day Feat. Oleta Adams & Aloe Blacc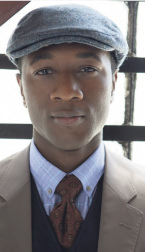 Aloe Blacc, the darling of pop and R&B lovers, and Oleta Adams will sing the songs of Sinatra and Holiday during the concert. American singer, songwriter and rapper Blacc, one of the artists that will perform, was imprinted in the minds of many with his hit songs "I Need a Dollar" and "The Man." He blended folk, soul and pop successfully in his third solo album "Lift Your Spirit" and achieved great success with the single "Wake Me Up," which he made with the famous electronic music producer Avicii. Blacc unites his strong compositions with his influential and poetic lyrics focusing on people's daily routines, and hardships that people face every day as well as his never ending hope.
Oleta Adams, who has been one of the most loved vocalists in soul and R&B, since 1990, earned great successes in the British and American music charts with her eight solo albums. Besides her acclaimed world tours with Tears for Fears, Phil Collins, Michael Bolton and Luther Vandross, Adams was also nominated for a Grammy Award four times.