The Encounters with Masters program, which has been organized as a part of the Istanbul Foundation for Culture and Art's (İKSV) Istanbul Jazz Festival since 2006 and brings world-renowned artists from the same musical traditions together, continues with an exclusive project this year. This year's Encounters with Masters will take place at the enchanting courtyard of Istanbul High School today at 7:30 p.m., where Iranian artist Mahsa Vahdat, Norwegian pianist Tord Gustavsen, Istanbul-based percussionist Fahrettin Arkın and kemanche virtuoso Shervin Mohajer will perform together. Iraqi-American trumpeter Amir ElSaffar will warm up the stage before the masters with his project titled "Two Rivers." The concert is sponsored by the General Consulate of Norway in Istanbul.
Tehran-born Vahdat is known for her modern interpretation of traditional Iranian music and as a freedom fighter. She began her music education at a very early age. Although it was illegal for women to sing, Vahdat and her sister released their first album, "Songs from the Persian Garden," which was critically acclaimed, and have performed with important musical figures at various music festivals.
One of the most important representatives of Norwegian jazz, pianist and composer Gustavsen has collaborated with well-known musicians such as Silje Nergaard and Kristin Asbjornsen, but decided to continue his career with different projects such as the Tord Gustavsen Trio, Tord Gustavsen Ensemble and Tord Gustavsen Quartet.
Arkın has performed in the four corners of the world, and he offers seminars to those interested in music. After performing with his band during the Lirik History Show that took place at Topkapı Palace in 2005, Arkın found himself in the spotlight. The musician also continues to work on his book, which is investigating the concept of rhythm in Turkish music.
Before the Encounters with Masters concert series, ElSaffar, who was praised for his 2006 album "Two Rivers" where he mingled Arabic music with impromptu jazz, will warm up the stage for the veteran musicians. The artist has recorded three more studio albums since 2006, and he previously performed with Randy Brecker and Cecil Taylor.
Joshua Redman and the Bad Plus
Known for their creative and entertaining style, the avant-garde jazz trio The Bad Plus joins forces on the festival stage with Joshua Redman, one of the most charismatic saxophone virtuosos of our day. Before the concert at the ENKA Eşref Denizhan Open-air Theater on July 10 at 7:30 p.m., French accordionist Vincent Peirani, who is one of the shining stars of European jazz, will perform with his quintet. The American jazz band The Bad Plus with Reid Anderson on acoustic bass, Ethan Iverson on piano and David King on drums, first performed as a trio in 1989. They released their first album in 2001 and have recorded 10 albums in which they covered the rock and pop songs of famous musicians such as ABBA, Blondie, Nirvana, Neil Young and Ornette Coleman. Jazz artist and saxophone virtuoso Joshua Redman released his self-titled first album in 1993. In addition to his solo performances, Redman worked with many important names, such as Brad Mehldau, Christian McBride and Kurt Rosenwinkel. As part of the festival, Redman will perform one of his exquisite concerts together with The Bad Plus in Istanbul.
Northern Lights
One of reggae's most prolific and influential production teams, the duo of drummer Sly Dunbar and bassist Robbie Shakespeare, will perform with Norwegian trumpet virtuoso Nils Petter Molvaaer at the festival for an exceptional night of music during the Northern Lights concert series on July 11 at Istanbul's Uniq Open-air Stage. Turkish saxophonist Korhan Futacı and his band the Kara Orchestra will perform before them while Danish psychedelic pop band The Asteroids Galaxy Tour will take the stage after Futacı and the Kara Orchestra.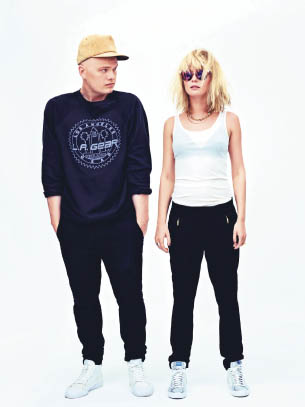 The Asteroids Galaxy Tour promises a dynamic performance during which viewers will not be able to help themselves but dance throughout the night. With his orchestra, Futacı will describe the chaos of Istanbul and the musical story of madness at the concert sponsored by Jotun and supported by the Embassy of Norway in Ankara.
Referred to as Jamaica's groove masters and the world's best drummer and bass duo, Grammy Award-winning musicians Dunbar and Shakespeare have collaborated on musical projects with international stars like Grace Jones and Mick Jagger. They are best known for their enthusiasm in adding their groove interpretation to each music project. In 2012, the duo was the guest of the Jamaican Legends and gave an unforgettable performance with their groovy dub music. With Molvaaer, an important name in Norwegian electro jazz, the duo will also be accompanied by Norwegian jazz guitarist Eivind Aarset. Designed especially for summer 2015, this project will debut at the Istanbul Jazz Festival and take audiences on an entertaining musical journey from jazz to dub and electronic music to world music.
Songwriter, composer and saxophonist Futacı will give the opening performance with his orchestra. The group will sound full of dark and merciless rhythms surrounded with energetic and harsh romanticism. Later, the Asteroids Galaxy Tour will perform. The group, which performed as an opening act for Amy Winehouse in 2007 in Copenhagen, and has dedicated itself to exploring different musical styles, performed "Bring Us Together" from their 2014 album with a concept including a party on the moon. In their first Istanbul concert, the group will invite the audience for futuristic dance featuring funk, disco and trip-hop.
Tickets are available at Biletix box offices, the main box office of İKSV or at the concert entrance. A 25 percent discount is available for tulip card owners. Sponsored by Garanti Bank for 18 years, the festival will run until July 15 and feature colorful and master musicians.