Istanbul locals have been surprised recently by the sight of a jazz musician driving a tractor around the city. Having spent his childhood plowing fields on a tractor, jazz musician Okay Temiz is driving his Ferguson TE 20 model vehicle on Istanbul's streets.
Speaking to the Anadolu Agency, Okay Temiz said he grew up on a 1,000-acre family farm in Çatalca plowing fields on a tractor all day since his family worked as farmers between 1949 and 1955.
Noting that they grew fruits and vegetables such as watermelon, tomato and beets on the farm, Temiz said: "We had a Ferguson tractor. Its engine was quite fast despite being a small one in size. As well as plowing our own fields, I was also plowing other fields around Hadımköy and Avcılar when my dad asked me to."
Temiz said there were cows from Hungary, geese, Sivas Kangal dogs and four tractors on the farm, which they sold after they quit farming. "I, of course, started my musical career, but the tractors were always in my dreams," Temiz said. "I studied machines and tinsmithing. My handiness in fixing and building things comes from my education. I build most of my musical instruments."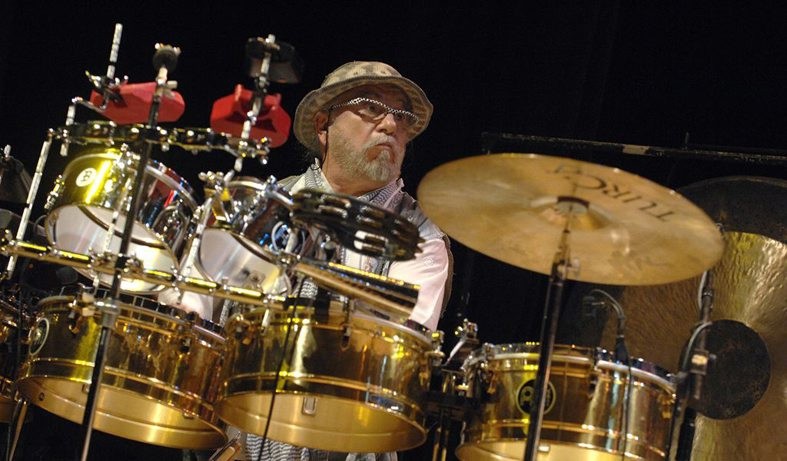 "I drove the tractor from Şişhane to my workshop in Galata. Those who saw me were very surprised. I gave life to this tractor, it is my love and I want it to be an example," accomplished jazz musician Okay Temiz said.
Saying he found his old tractor in a village in İzmir's Selçuk district, Temiz said it was in a dilapidated condition since it was used in the fields, not for driving around like he did, but for plowing. "I bought the tractor and took it to Ayvalık. I worked on it for three months and repaired it. Nobody wants to spend time on old models since they have been remodeled. There are modern tractors now," Temiz said.
Continuing by saying that he brought the tractor to Istanbul behind a truck, Temiz said he had never drove around a city on a tractor before and thought about driving it in Istanbul. "I drove it from Şişhane to my workshop in Galata. Those who saw me were very surprised. I gave life to this tractor, it is my love and I want it to be an example," Temiz said, stressing that the agriculture is unfortunately coming to an end. "People who saw me driving it were very surprised, for example. They asked me what I was doing. They found it peculiar. They congratulated me, but nobody is eager to try it, they find it funny."
Temiz said, during a concert that he gave in Sweden in 1976, he lined up 10 tractors before him, making a beautiful sound by gassing the cars with different exhaust noises. "Each exhaust noise had a different sound and color. Maybe, I will do it in Istanbul, for example at Cemal Reşit Rey," Temiz said.
Recalling that he previously tied various instruments behind a car in Bodrum to announce his concerts, Temiz said people used to announce weddings like this, especially the Roma people in Thrace. "I used to arrive at village weddings on my tractor. I, for example, announced one of my concerts on a tractor one day, driving around on the streets with musicians."
Stressing that there are fan clubs in Germany for Ferguson and Volkswagen vehicles, Temiz said: "Unfortunately, we do not have them. I wish we could drive around on the streets on 10 Ferguson tractors. Fans of some tractor brands do this in Germany and Britain. Tractors are a legendary thing, they deal with nature." Temiz said they used to produce everything by themselves, and he grew up in the field barefoot, worked as a shepherd, and rode an unsaddled horse. "All of these things are unfortunately gone now. I want to draw attention to them with my tractor," he said.