The fez made its appearance in New York to the gurgling sound of the water pipe and the raspy throats of crooners whose voices rose and fell over accompanists on instruments as exotic to America as the languages they spoke. Until the Great Depression began in 1929, major record companies like Columbia, Victor and Edison recorded waves of immigrant music in New York, as the Old World moved across the Atlantic Ocean from the territories of the Ottoman Empire to make an extraordinary, while still obscure mark on American music history.
Since the 2011 release of his compilation "To What Strange Place: Music of the Ottoman-American Diaspora 1916-1929" with Tompkins Square Records, music historian and sound restorationist Ian Nagoski has produced a number of albums that reflect the diverse rhythms and modes, songs and improvisations of Ottoman migrants in New York. His label, Canary Records, is a goldmine, currently purveying 14 compilations of early modern songs in Turkish, Armenian, Greek, Kurdish, Arabic and Ladino that voice the Ottoman migrant struggle to resettle in America. Its music powerfully reimagines the meaning of land, sea and home.
One hundred years ago, in April of 1917, the singer Zabelle Panosian felt mixed emotions walking through Little Syria by City Hall in Manhattan. She entered the intimidating Woolworth Building skyscraper to record at Columbia, which had already pressed 80 of her performances. In her exquisite, operatic voice she swooned with seasonal nostalgia for her birthplace of modern-day Bahçecik, singing "Caroun" (Spring) for as many as seven takes, a supreme luxury for immigrant singers in her day.
Among the seven songs that Panosian recorded that April were "Tzain Dour Ov Dzovag" (Call to the Sea) and her masterpiece, "Gruong" (Crane), a best-seller for the over 100,000 Armenian migrants who had migrated from the Ottoman Empire. In the month of her recording, the Turks sided with Germany in World War I and U.S.-Ottoman relations were severed. Panosian sang "Gruong" for her fellow exiles: "Crane, have you not news from our country? / Hasten not to your flock, you will arrive soon enough!"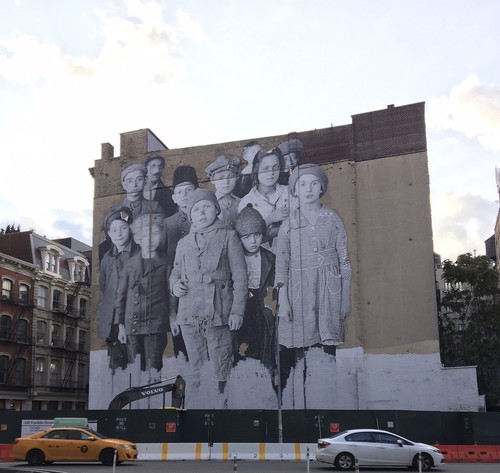 The artist JR curated historical photography from the early 20th century immigrant era and has on-site exhibitions across the city of New York.
Ottoman singers and instrumentalists in New York performed the sounds of the migrant ecology that defined them, and which they overcame, as recurrent themes in the songs they wrote and played evoked the flatlands of Anatolia, the Greek peninsula, the Armenian highlands and Arab deserts. New York transformed Ottoman music into a genre justly termed Old Wave, as its historical appreciation deepens as it emerges anew. The independent ethnic record companies in early 20th century New York had foresight enough to amplify that sound when it was still green. Among countless labels were Pharos, M.G. Parsekian, A.J. Macksoud, Sohag, Panhellenic, Orthophonic, Stamboul and Oriental, which offered spaces for Armenian, Greek, Arab, Kurdish and Turkish alike to express common Ottoman migrant experiences through sounds that merged boundaries with a passion to match the imperial geography of the sultan.
In 1915, the father and son violinist-piano duo Stephan and Haigaz Simonian left Kayseri in the wake of deportations to board a ship from Greece to Ellis Island. Once in America, they recorded the Greek celebration tune "Hop Pala" (a derivation of opa!) with the Armenian-owned Pharos Records. Its name is a word common to Armenian, Greek and Turkish, meaning "lighthouse" as it led storm-tossed and seasick migrants to disembark in New York where they added creative fuel to its guiding, musical fire. Housed at the watch repair shop of the Vartesian Brothers in Little Armenia, currently Kips Bay in East Midtown between the Flatiron and Gramercy districts, the Pharos label eventually bought out M.G. Parsekian in the mid-1920s, preserving his catalogue in print until the Depression hit.
Much of the Ottoman music that was recorded in New York is clouded in enigmatic anonymity to contemporaries, as Orientalist subjects were for pre-modern Westerners. As is traditional to Ottoman citizens, Kemany Minas, for example, has no surname. He simply bears the Turkish honorific for master violinist, "kemany," followed by a common Armenian name that is originally from the Greek. While there is no extant biographical information about him, the 30 recordings he made from 1916-1917 in Manhattan pioneered a fusion of styles that merged Turkish classical and folk musics with original composition, ultimately inspiring the heart of the Old Wave movement along 8th Avenue. One of his best known pieces is "Bülbül Canto" (Nightingale ballad) set to an old Turkish song, "Ah Şu Daglar" (On These Mountains).
Even though he had immigrated to the United States at the age of 10 in the last decade of the 19th century, Karekin Proodian never left his folk music roots behind. And they remain strong on the Black Sea coast of Turkey in his native Samsun. He was the first to record with M.G. Parsekian when he founded his label in New Jersey around 1920. Among the twenty pieces that Parsekian released with Proodian was the song "Chinary Yares Aghchg," a lyrical metaphor comparing an eastern Armenian girl to a poplar tree.
The multicultural blend of Ottoman music is apparent in the individual, as migrant artists wore many hats. Nishan Sedefjian grew up in Trabzon speaking the north Anatolian minority language of Laz and thought of himself as Pontian Greek. In Little Armenia, he was a jeweler and violinist who recorded improvisations with Pharos, as he resided across the street. He often accompanied the talented Greek singer and oud player Achilleas Poulos who ran a cafe with his wife on 8th Avenue illegally selling wine and drinking hard during Prohibition. From 1916 to 1927 he recorded over a hundred performances, mainly with small Armenian companies though he made two unissued pieces for Victor.
Born in Constantinople at the turn of the century, the prolific Greek composer Tetos Demetriades peerlessly abridged the great distances, physically and culturally, between American and Ottoman cultures through music. He arguably gave surf rock its most enduring melody with "Miserlou," and during the Depression when immigrant labels closed, he continually filled the creative gap between Greece, Turkey and the United States by importing new music so that artists could develop a living, contemporary sound tradition. As a producer through the 1940s, he knew no bounds recording everyone from Athens to Harlem and beyond.
Migrant music is initially defined by endurance and perseverance through separation and loss. It is then resolved in the harmonization of identity and individuality with communal expression in strange lands, alongside new people. While far from a utopia, the multinational culture of the Ottoman Empire lived on in diaspora to enrich America as a kindred, older soul. It's still audible in cryptic lyrics revived from the scratchy records of the Old Wave sound.