A group of 10 women who met while participating in the Project for Supporting Social Inclusion in Places Where Roma People Live Intensively (SIROMA) have formed a band in Tekirdağ.
Participating in the SIROMA project, set up to increase employment and access to services for the Roma in Turkey by the Family and Social Policies Ministry, the women wanted help from Ümit Satılmış, president of the Association for Preserving Roma Culture and Musicians in Tekirdağ.
They learned to play instrument, including the trumpet, drums, darbuka, tambourine, bendir and accordion from Ümit Satılmış, practicing six days a week. Playing especially Roma songs, the band performs at many events around the city.
Satılmış told Anadolu Agency (AA) that the band will be an example for Turkey's Roma citizens.
"People generally think that Roma women are housekeepers or that they dance. As a result of the SIROMA project, we are proceeding step by step in our efforts so that these women can produce music with their instruments. Bands like this will be an example for other Roma citizens and our Roma women will achieve more."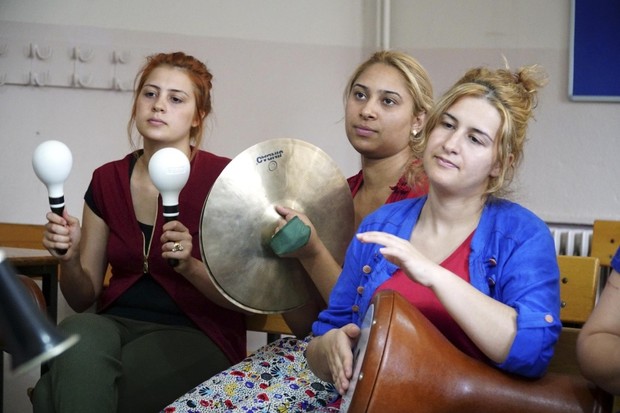 Roma culture to be promoted
Satılmış said: "The education that these women received here has contributed to their lives so much. The women who stay here will make music within the Culture Ministry after the courses. Thus, they will be able to find an opportunity to introduce their culture to both Turkey and the world. Our band has managed to make great successes in a short time. These women are continuing on their way to present their culture."
Explaining they want to present their culture through the band, one member, Nagihan Umut, also said: "We weren't good in the beginning, but our instructor taught us everything. We can play the instruments very well now. We want to preserve Roma culture and transfer it to future generations. We don't want our culture to be forgotten. We also have a desire to present our culture to the world by going to different cities and different countries."
Aysun Taşıyan said that Roma women put together the band in order to show that Roma women are capable of anything.